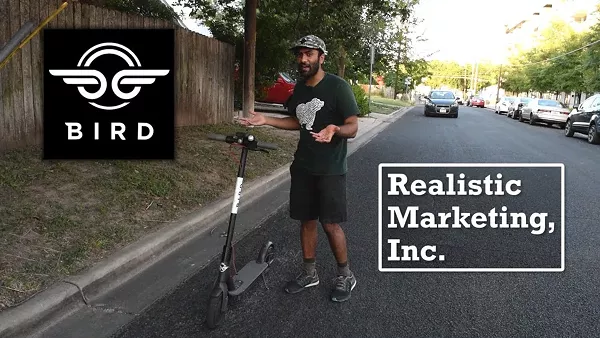 Just last week,
Metro Times tested out the Detroit pilot program
launched by the Los Angeles-based
multi-billion dollar electric scooter sharing company
, Bird. We discovered that, while cruising at an unnerving 15 mph down Midtown streets is actually pretty fun, the logistics of Bird's convenience;and sustainability is questionable at best.
For those reasons, the company is
the latest victim
;of Realistic Marketing, Inc. The satirical YouTube video highlights the myriad of issues with the scooter-sharing service;— as well as similar tech start-ups like Lime and Spin — starting;with the
need
for such service... or lack thereof.
"We've solved the everyday problem of needing to go .2 miles for no substantial purpose besides terrifying pedestrians," the narrator explains. The first step? "Find the Bird in no dependable location and ride it until the 14 percent charged battery;dies."
Safety precautions? "Yeah, but fuck it because we're Bird." Legal? Not really. What happens when the QR code has been scratched off (as we already witnessed on one scooter while walking downtown last week)? Easy! Track another scooter down via the app, which might involve walking another six blocks only to find that the scooter has been taken by someone else. And then you only have until 8 p.m. to ride, because as the video explains they stop working like some bullshit Cinderella magic.
Detroit, enjoy these scooters while you can. We have a feeling they are going to migrate straight to hell because we can't have nice things, er,
things
.
The war on this latest transportation trend has been waged by cities and disturbed individuals across the country. Thousands of scooters have met their demise by means of
cliff
,
fire
, and
trash
;— or in the case of
this savvy entrepreneur
, eventual jail time.;
You can watch the brutally honest video below.

Stay on top of Detroit news and views. Sign up for our weekly issue newsletter delivered each;Wednesday.