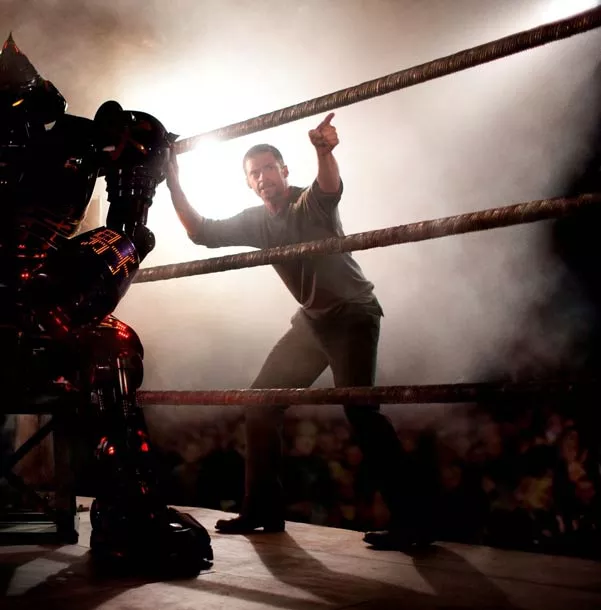 Handcrafted for the 8-year-old video game junkie inside us all, Real Steel is an overloaded, underthought empowerment fantasy with a bright shiny chassis and a lemon under the hood.
Hugh Jackman affects some sort of hybrid accent never heard in any particular region of the United States, as Charlie Kenton, a washed-up former heavyweight contender, now just barely scraping along from town to town as a robot "trainer." Flesh and blood boxing has become passé, replaced by huge metallic fighter droids that can smash and bash each other into spare parts, guilt-free. The film is set in the very near future of 2027 (with a lot of scenes shot in Detroit), an artistic choice seemingly intended to save on costuming and set design. This timeline means that Atom, the old-fashioned scrap-yard bot at the story's center, was built "way back" in 2014, so today's engineers had better get cracking.
A live bull in a rodeo fight busted up Charlie's latest tin-can slugger, so he's desperate to get back in the game and build a winner, if only to keep ahead of the various leg busters to whom he owes money. He's such a low-down chiseler that when his ex-wife dies he's willing to sell off parental rights to the 11-year-old son (Dakota Goyo) he's barely met to a wealthy aunt and uncle. But, in the least believable turn in a movie about robot boxers, Charlie agrees to babysit for a few months, while auntie (Hope Davis) heads off on a cruise. This interval is more than enough time for dad and son to do some serious bonding, and to become a winning team in the fight game, taking their scrap-yard scrapper all the way to a surprise title shot. Minus the robots, this is essentially the same plot as the 1987 Stallone arm-wrestling stinker Over the Top, but the very game Jackman slaps on the charm and grins his way through it. The appealing Evangeline Lilly apparently has nothing better to do in her life than sit around her dad's musty old gym waiting for Charlie to wander back to town, but his romance is always second fiddle to the feel-good family drama.
Real Steel is extremely loosely adapted from Richard Matheson's 1956 short story, which was later a Twilight Zone episode that featured Lee Marvin as a palooka made redundant by the new breed of fighting machines. Any social commentary about modern man's increasing self-made obsolescence is just background noise here, a dull hum behind a hosanna chorus of feel-good exaltations. In a smarter, sharper movie the message that no matter how hard you try the system is rigged, may have been loud enough to break through the drone of CGI robocarnage. Director Shawn Levy (Night at the Musuem) knows how to deliver good clean family fun, and a cornball good time. Who cares if the drama's unconvincing, or that the child actor is annoying or that the script drips of more cheese than stadium nachos? Real Steel is exciting, and will be heartily devoured by audiences eager to inhale the warm regurgitated paste that passes for comfort food these days.
Opens Friday, Oct. 7.