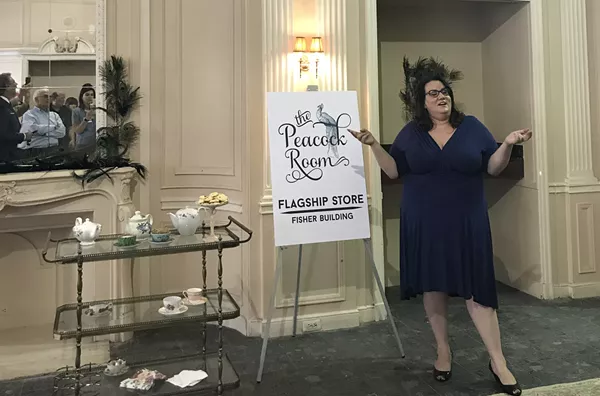 Peacock Room owner Rachel Lutz announced today that in addition to
Yama
, she will also open a flagship location of Peacock Room inside the Fisher Building. The stores are set to open this fall.
Lutz' original Peacock Room location as well as her second business, Frida, currently operate out of the Park Shelton building, located next to the Detroit Institute of Arts in Midtown. Once Yama and the flagship Peacock Room location open, she will be operating nearly 7,000 square feet of retail business in the city of Detroit.
While she originally only planned to open Yama inside the Fisher Building, Lutz says that when she saw the space that will soon be the Peacock Room flagship, she felt "architecturally obligated" to take over the two-story storefront.
While Yama will offer streamlined, sleek, and simple women's fashion, the Peacock Room flagship will continue to sell vintage-inspired clothing and accessories. The flagship will also have a small bridal boutique.
According to Lutz, the storefront — which includes an elevator, spiral staircase, and mezzanine — was originally home to Julie's Dress Shop.
Lutz hopes to cater to the theater crowd as well as welcome shoppers from the New Center neighborhood.
"As long as people are in the Fisher Building, we will be open," Lutz said. She says upon opening the store will be open five days a week and on theater days, and she eventually hopes to operate seven days a week.
Sue Mosey, director of Midtown Detroit Inc., spoke at the press conference, telling guests that Lutz has been a key element in the ongoing redevelopment of Midtown. Mosey said she hopes that momentum continues to move north into New Center, an area she referred to as a "new frontier" in Detroit.
Peter Cummings, executive director of the Platform, told guests the store openings are part of his vision for the Fisher Building's redevelopment.
"The work we're doing in New Center is passion-driven work," he said. "We're embracing the original vision of the Fisher brothers."
The Fisher Building is already home to the Fisher Theater as well as several small businesses including a Pure Detroit location, Workshop, Russell's Pharmacy, and the Detroit Gallery of Contemporary Artists. The Platform has organized several large events inside the building's gallery, including the Fisher Halfpipe, a Flint Eastwood concert, and an art exhibit.
Yama is currently scheduled to open in September, with the Peacock Room flagship opening in October.