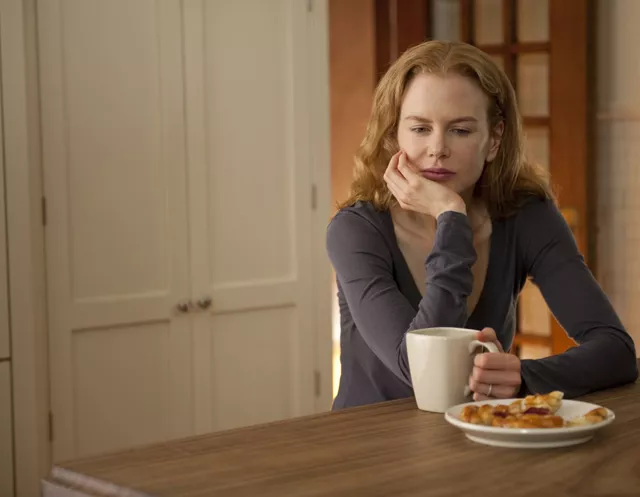 "Things aren't nice anymore!"
—Nicole Kidman as Becca in Rabbit Hole
Grief is a messy, profoundly isolating emotion. It can explode in agonizing hysteria or quietly roil beneath the surface, eroding a person's capacity for joy and interpersonal connection. John Cameron Mitchell's carefully directed Rabbit Hole knows this, as it delicately probes at the sorrow, resentment and powerlessness that consumes those left in the wake of tragedy.
A cynic might conclude that a movie that dwells on the emotional aftermath of a child's death is just another example of year-end Oscar baiting, especially given Nicole Kidman's participation as both executive producer and star. And that's most likely why David Lindsay-Abaire's Pulitzer Prize-winning play was adapted for the screen. But in choosing Mitchell to helm the picture, Kidman has found a careful and sensitive filmmaker committed to painting an understated and empathetic portrait of what happens to a couple as they deal with the worst kind of loss.
Becca (Kidman) has landed a husband — Howie (Aaron Eckhart) — who provides her with a Mercedes and the kind of kitchen that makes foodies drool (she can wield a brûlée blowtorch like a pro). Still, something's off. The couple seems to be drifting apart in that perfectly manicured home. When Becca's unmarried, blue-collar sister Izzy (Tammy Blanchard) announces that she's pregnant, bitter family tensions begin to surface. You see, it's only been eight months since the accidental death of Becca's 4-year-old son. Since then, grief has driven some friends away, visits to a support group for the parents of dead children has deepened Becca's anger (she calls them "professional wallowers"), and her mother (Diane Weist) insensitively compares the death of Becca's drug-addicted brother to the loss of her young son. Coffee and wine are sipped, weighty conversations about coping and pain ensue, and fights over what mementos of their son should remain erupt between husband and wife. Worse, Becca has started stalking Jason (Miles Teller), the teenager responsible for the accident. Despondent and wracked with guilt, he channels his feelings into a comic book entitled Rabbit Hole, about a son who searches for his dead father in an alternate universe.
If the movie sounds like grief-porn, you're only partially right. With but three films under his belt, Mitchell has established himself as a director who both appreciates and encourages actors to confront those emotions that usually go unexplored in Hollywood films. Here he mostly avoids the suffocating gloom of his subject matter and instead focuses on the ordinariness of loss, how it bounces between unexpected comedy and wrenching anguish. Rabbit Hole rarely wallows, and even manages to offer instances of hope and grace.
And yet, for all the honesty, vulnerability and subtlety Mitchell coaxes out of his cast, his film is far too tasteful and tidy, hermetically sealing the grief of its characters in a world that avoids context or subtext. Rabbit Hole is too much about itself, a sensitive yet overly literal (and somewhat detached) examination of grief that never lets you really know who Becca and Howie are. There are scripted hints, but, as presented in the film, they don't add up. Class, wealth and family become unexplored trappings that further distance us from these stricken parents. A subplot about a close friend who can't bring herself to comfort Kidman might have been turned the story into something resonant and moving but instead becomes a barely mentioned footnote. Instead of complexity and insight, Howie and Becca get secret confidants (Teller and Sandra Oh) who allow them to launch into exquisitely constructed monologues that further betray Rabbit Hole's theatrical roots.
There's no getting around Rabbit Hole's affecting subject. The loss of a child is a devastating event that brings with it almost autonomic empathy from an audience. And Kidman and Eckhart are at the top of their game, while Teller makes an impressive debut. Still, it's Dianne Wiest's painful struggle to balance grief and faith that create the movie's most lingering emotions. In just four small scenes, Wiest upstages the carefully arranged emotions that fill the rest of Mitchell's movie, answering the unanswerable with a monologue of measured hope. Does the sorrow ever leave? No. But life goes on. If Mitchell's film had found a way to show rather than tell, Rabbit Hole could have transcended the theatrically obvious and become cinematically sublime.
Showing at the Landmark Maple Art Theatre, 4135 W. Maple Rd., Bloomfield Hills; 248-263-2111.