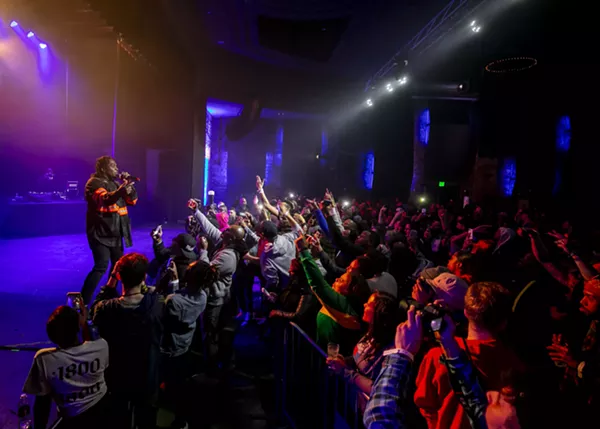 On Thursday night, rapper Pusha T helmed the 1800 Seconds showcase at Detroit's Garden Theater. Part mega advertising opportunity and part new artist showcase, the event was the culmination of a marketing campaign that saw Pusha T unite ten up-and-coming artists for a compilation album that clocks in at 1800 seconds (the aptly named
1800 Seconds
project).
Among these artists were Detroit's own Monalyse and Sam Austins, who were flown out to L.A. for the making of the record. Yes, it was a clever ad-campaign for the mid-level tequila brand, but it also served as a genuine opportunity for 10 somewhat undiscovered hip-hop artists to connect with a living legend, a broader audience, and each other.
"You have to pay it forward... it's a time for me to connect on an executive and mental level with 10 artists," Pusha explained in the project's
wrap film
. The hip-hop mogul worked closely with the artists to record a separate track that would go on
1800 Seconds
. Austins' song, "Motivation," is a more hyped-up extension of the trademark trap-pop sound heard on his record
Angst
. The production quality is undeniable, which is to be expected of Westlake Studios, a workspace that boasts predecessors like Michael Jackson, Aaliyah, and Frank Ocean. While some the lyrics are lost in Austin's smooth and sometimes indecipherable delivery style, the song's ethos remains intact: he is dedicated to his path of being a star and nothing is going to get in his way.
Diligence
EP.
While 1800 Tequila clearly poured a lot of time and resources for this project, the showcase itself seemed to be a bit of an afterthought. The tequila company reps say they chose Detroit because it "represents many musical genres and is the birthplace of legendary hip-hop artists. The Motor City's hip-hop history and relevance has been embodied by hundreds of talented artists and the venues in which they performed." Nothing to argue with there, but somehow the hype of the event fell through. The close to 1,500-person capacity Garden Theatre felt about half full, mostly with people who weren't matching the hype level of the artists. Each artist came on stage for around three minutes to perform their songs, which seemed to be a bit disorienting and distracting to the crowd.
However, both Monalyse and Austins put on stellar, energetic performances that matched the vibrance and caliber of their songs on the record. To close out the event, Pusha T himself took the stage for a short set, playing crowd favorites like "Mercy." Tequila advertisement or not, Pusha delivered an incredible set and shared the stage with some promising emerging artists.
You can listen to the full
1800 Seconds
compilation album below, or learn more about the project at
1800tequila.com
.

Stay on top of Detroit news and views. Sign up for our weekly issue newsletter delivered each Wednesday.