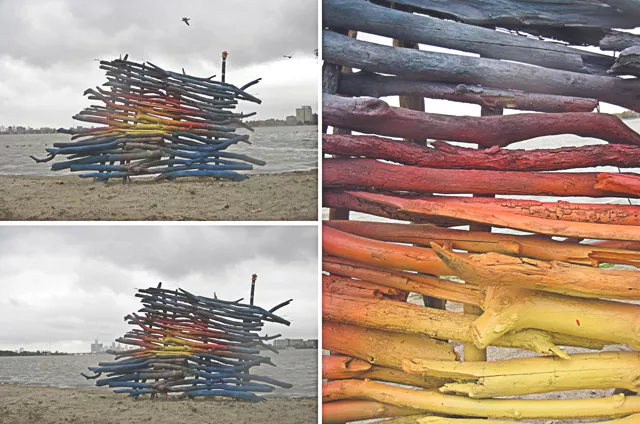 In 1905, George G. Booth, son-in-law of newspaper publisher and philanthropist James E. Scripps, donated his land and house to the city of Detroit with the stipulation that it be used for a branch library and public park. Booth's house existed as Scripps Park Public Library until 1966, when it was demolished so that a more modern building, the one that exists today at the corner of Grand River between Commonwealth and Trumbull, in the Woodbridge neighborhood, could be built. Five years later, the library was reopened as the Frederick Douglass Branch for Specialized Services, serving the blind and physically handicapped.
As for the park? It sat, deteriorating, reclaimed by nature.
That is until last summer, when Brian Shellabarger, who runs the Woodbridge Development Corporation, approached community arts administrators Dominic Arellano and Louis Casinelli.
Arellano is founder of arts advocacy and project management group Forward Arts, and Casinelli is co-founder of Access Arts, a nonprofit group that provides arts education for Detroit kids and produces public exhibits, including the annual Belle Isle Arts Exhibit.
"The park was a space that didn't get much care, but the way it's laid out, with the beautiful red brick wall, the iron gate and those incredible trees make it very unique," Casinelli says.
"We really wanted to give it purpose," Arellano adds.
Public art needs and breeds security. The two spoke with Shellabarger about lighting, safety, maintenance and how to go about getting neighborhood people involved.
"The art exhibit is just fuel to fire up all these other important conversations," Casinelli says.
Two organized park cleanups saw about 60 people — friends, neighborhood residents, and artists — attending. "It was the first time these people had spent real time in the park," says Arellano.
The artists included Elizabeth Isaakson, Stephanie and Julie Howells, Erin Ellis, Sean Hages, Dustin Cytaki, Sarah Stawski, Courtney Spivak and students from Access Arts' Youth Education Program, which interfaces with Wolverine Human Services. These kids learned firsthand that public art isn't just about atmospherics. For the artists, especially, it creates an opportunity for interpersonal connections to physical spaces. Art-makers, they learned, bear responsibility.
One brick wall at Scripps was busted up pretty good. Loose bricks splayed upon the ground. One kid had the idea to paint them gold and reassemble the wall. A bunch of his peers ended up working with him.
"As this kid was carefully placing the bricks, a few fell down and he got discouraged," Casinelli says. "He was like, 'Man, someone's just going knock these all down anyway.' I asked him what would happen then, and he said he didn't know. It was a learning opportunity. When we found the wall, the bricks were knocked down and he took it upon himself to place them back in a creative way. If they got knocked down, I told him that it'd be up to him put them back. He was like, 'Me? OK, cool.' There was a sense of ownership and pride."
In May, more than 160 paid $10 for the opening party. The money was raised to help fund the installation of a sensory garden for visually impaired children and a second exhibition set for August. There was barbecue and live music. Casinelli says, "It was a total success."
But just 10 days after the opening, there was a malicious teardown and, excuse the hyperbole, art heist.
"Most of the art was taken. What wasn't stolen was ripped down," Casinelli says.
When one kid learned his milk crate structure had been dismantled to create a homeless person's bed, he told Casinelli: "That's alright. That's part of it. It is public, right?"
With her father, Detroit artist Courtney Spivak spent countless hours creating a set of four chairs. Those chairs were stolen.
"The work was so refined, they could've been set in a gallery," Casinelli says. Spivak and her father garbage-picked those chairs, reconstructing parts with fallen tree branches. "They looked like they we're growing out of the ground," Casinelli says. "And, as chairs, they worked great. The level of craftsmanship was outstanding."
"But it's not like we're going to stop," Arellano adds. "We're moving forward. There will be art at Scripps Park."

Next up for Casinelli and Arellano is the Belle Isle Arts Exhibit.
There've been five such exhibitions, and each employs dozens of artists to create and install art around the island. More than 300 people attend the opening, and thousands will view the art over the three-week period of installation, exhibition and planned removal.
Access Arts provides maps (physical copies at the opening and a downloadable document online), so the art, sometimes too carefully placed within the natural environs of the isle, can be found. The Hub of Detroit provides bicycles for wheeling around. It's a good time. And with sponsorship from Recycle Here! and Supino Pizzeria, which ran a one-week promotion giving 25 percent of sales to the Belle Isle Arts Exhibit — Supino owner Dave Mancini says the fundraiser resulted in the Eastern Market restaurant's busiest week to date and raised approximately $3,000 for Access Arts — this June's exhibition is the most anticipated yet.
So it's awkward, if not flat-out insulting, that a New York City group called the Action Arts League, which oversees a public arts program called Figment in a few cities around the country, has decided on a public arts exhibition at Belle Isle in August, when Access Arts typically presents its second summer exhibit.
It took years for Casinelli to establish solid, working relationships with City Hall, the Parks and Recreation Department, and the various Belle Isle advocacy organizations. But Figment, Casinelli says, got the necessary permits and go-ahead in just one afternoon's meeting.
Though funded in part by the National Park Service, the New York City Department of Cultural Affairs, and a handful of other agencies, Figment still isn't providing Detroit artists with funds for work materials. It's a pay-to-play scenario, which rarely flies in Detroit.
"There are going to be growing pains, for them and for us, in terms of how we relate to each other," Casinelli says.
He and Arellano are concerned that even the avid artgoer might assume they're doing the exact same thing.
Casinelli: "When you're developing a program, project or even a business, you want to make sure you distinguish yourself from anything and everything else in the arena. ... Our exhibition has a huge education component. We also give our artists money to fund their projects. When you start to get into the nuances, you can see how much we diverge."
Arellano says that they recently sat down with the Figment group, but that they weren't interested in collaboration. And collaboration is paramount to the success of Access Arts and the Belle Isle Art Exhibit.
Artists participating this year include, Holliday Martindale, Halima and Kai Cassells, Chido Johnson, Julie and Stephanie Howells, Sean Hages, Ginger Chase, Courtney Spivak, Carie Ann Costa, Marianne Audrey Burrows, James Cornish, Dr. Carleton Gholz, Sicily Amaris McRaven, Intake Manifold, Alivia Zivich, Polar Fleece St. Cloud, and the 5th grade class of Marcus Garvey Academy in Detroit via U-M's Detroit Connections Project and Marygrove College.
"Collaboration. That's how Belle Isle operates," Arellano says. "There are all these different groups that make the park function. None stand alone. They promote each other, help each other. That's our spirit too."

The Fifth Belle Isle Arts Exhibit opens Saturday, June 18, with a party from 2 to 7 p.m., and runs until Friday, June 24. For more info see accessartsdetroit.org.