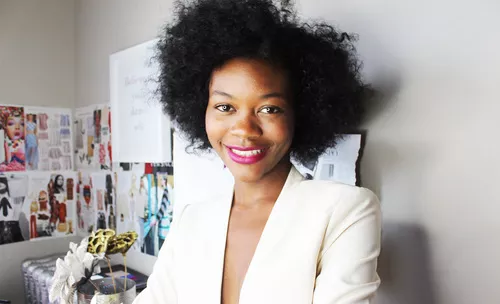 Laurie Underwood is bringing New York Fashion Week to metro Detroit as she reveals her first collection at PINK PUMP in Bloomfield Hills on Thursday, Feb. 18. Underwood, a native of Detroit and Cass Tech alumna, will debut her Fall/Winter 2016 Wanda Grace Collection, her first since her stint on Lifetime's hit show Project Runway Season 14.
Underwood shared why she chose to present her new threads in Michigan.
"Detroit is where I got my start and coming home to unveil my first collection since receiving national recognition is a way to pay homage," says Underwood.

"PINK PUMP and Wanda Grace are kindred spirits in the passion for entrepreneurship and ventures that empower women to be the best they can be. Hosting my unveiling there is a perfect fit."
Kelly Kirkwood, the CEO of PINK PUMP, is excited to host the unveiling of the Wanda Grace Collection because she believes that Underwood's work empowers women.
"PINK PUMP is a brand that is made for women by a woman. I am focused on inspiring women by making them feel confident and beautiful. I take pride and time in selecting brands, styles and quality pieces that women will be proud,excited and confident to wear," says Kirkwood.