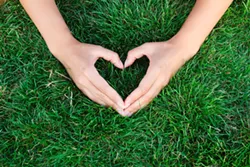 Project HEAL is a 501(c)(3) not-for-profit organization that provides financial grant funding for people with eating disorders who cannot afford treatment. It also raises awareness of the dangers of eating disorders, promotes healthy body image and self-esteem, and works to convey the message that it is possible to recover fully from an eating disorder. Often those who are trying to recover from an eating disorder do not have the funds to seek proper care.
Friday through Sunday, October 14-16 Project HEAL will host three days of fun in hopes of raising money to go towards those life-saving grants.
On Friday, October 14 the event will kickoff with Donate to Dine — a dinner and drinks event at BD's Mongolian Grill in Ann Arbor. Your ticket includes one stir-fry bowl, unlimited soup and salad, a soft drink, and tip/tax. Next is Saturday and the Is it Me or the Stuff Makeup? workshop, a self-care morning from 10 a.m. to 12:30 p.m. at the Rebel Heart Salon in Ypsi. Lead by Angel Vanas, this $35 workshop will also include mimosas (and virgin ones for those who are sadly not 21) as well as brunch snacks. Sunday is Moving to HEAL: A day of therapeutic movement classes.
Project HEAL has a number of fun classes led by teachers from all over Michigan, including Violet Defiant from The Ann Arbor Aviary, who will be teaching an acro (short for acrobatic) workshop based on consent. Beverages and snacks will be available for purchase, along with Project HEAL merchandise. There will also be a raffle. For more information, including all prices, times, and locations,
visit their website.