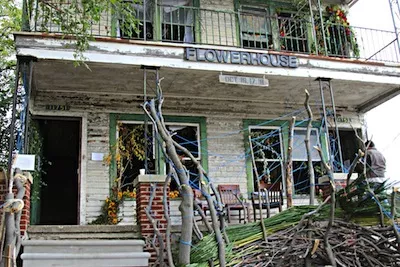 A photographic essay appeared in the New York Times
this week reporting on the work done by florist Lisa Waud to turn a derelict Hamtramck home into "Flower House," a lush indoor garden that thousands of ticketed guests will tour this weekend. The atmosphere should be a festive one, with food trucks, tourists, and tens of thousands of plants.
And then, when it's all over, the house will be flattened.
That idea doesn't sit too well with Mitch Cope and Gina Reichert, the husband-and-wife couple that has helped create an "art house" movement of their own in Detroit's Banglatown neighborhood. Through
Power House Productions
, the work Cope and Reichert have done provides a very different kind of example.
Is it Power House vs. Flower House? Not necessarily. But Reichert is concerned that people will lump Hamtramck's art houses together, and wants people to know not everybody turns a house into art just to knock it down.
In one comment, taken from an online discussion of the Flower House, Reichert says, "The scale and spectacle will be impressive, I'm sure, but is this just another level of 'ruin porn' or exploitation of blight? Food truck fashion parties don't really signal awareness to me. I think there is room for a critical conversation to be had around projects like this and the former Ice House from a few years back."
Other commenters were surprised that the house was to be razed, and that Waud believed it would cost $1 million to rehab, a claim reiterated in the article. (One local yokel declared the statement "a steaming pile of lazy horseshit.") Somebody else referenced a quote from the article that read, "Our concept is post-apocalyptic spooky ... We want it to look like the world ended and nature took things back within seconds." The commenter added, "personally, I'm not sure how this moves things forward, or moves people together.
But Mitch Cope wrote a long and literate letter to the Flower House people, which Reichert said we could post here in the interest of fostering discussion. Regardless of whether they're able to change plans or minds over at Flower House, the issues the letter raises should be examined by anybody looking to create an art house of their own in the city.
——————————————————-
Dear Flower House,

This is quite the operation! I am impressed by your ability to pull in so many different people to build an installation of such magnitude and from what I can tell so far, a beautiful project.

BUT ... HOLY CRAP, DON'T TEAR IT DOWN!

That's a zero-sum game. So many unfortunate and salvageable houses in this city are being torn down with hopes to raise property values. This is understandable and it's also understandable that fixing these house is a daunting task; however, it is also cynical, lazy and something we really need move past. I can assure you that it will never take a $million dollars$!! to repair your house. Not in a million years. Yikes that is a crazy estimate. If you are working in the house and having visitors walk through the house, it is totally salvageable. Due to the way these houses were constructed they are surprisingly malleable and tough. I know this because our organization actually has spent a million dollars in the past five years, not only on substantially renovating and reconfiguring six houses but also a skateboard-sculpture park, public programs and grants for artists, investments in green technology and admin costs - all within a million dollars.

BUT hold on a minute, lets just say for fun that it actually does take a million dollars. That could be one amazing rehab! Why not spend that on fixing it up. Take the structural damage as cues to tweak the architecture, improve on it! That would be a great story. Making it the most amazing permanent flower arrangement ever, right along the I-75 service drive for all to enjoy. It could spearhead ideas of real estate values all along the Hamtramck and Detroit border and become a beacon of change and hope to the thousands of commuters who drive by it daily.

Detroit houses are unique in their architecture and their history. Tearing them down simply because it costs more to fix them up is not a sound argument for removal. Property values work a little different in Detroit. Because property values are so low, you actually have the opportunity to create your own value by doing new and unique things. You are not tied to the customs that build beige suburban cul de sacs and strip malls or sports arenas. Thinking this way is a zero-sum game, culturally and, yes, financially. It is validating the real estate market that brought us to this point. We must change the dynamic of what real estate means, what properties mean to neighborhoods, to the community, to the city. It is simply not just a buy and sell for profit scenario, or in your case buy it, work extremely hard and convince tons of people to fancy it up and then tear it down. So on second though it's not a zero-sum game, it's a negative-sum game. We have way to many of those games playing out already in Detroit. Make this a positive sum.

SO PLEASE! rethink your end goal with this beautiful house. It's not too late!

You can change your event from a funeral flower arrangement to a rebirth flower arrangement.

YOU CAN DO IT!! #FlowerHouse

All the best,
Mitchell Cope

Co-Director
Power House Productions