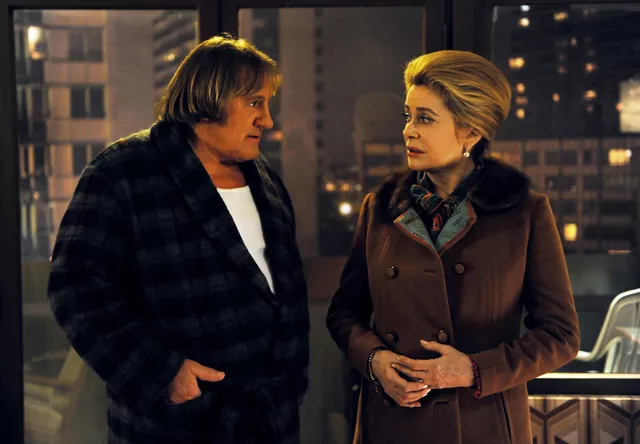 French screen icons don't come much bigger than Catherine Deneuve and Gérard Depardieu, and in Depardieu's case quite literally; he's apparently spent recent years pounding down cassoulet at epic levels. The former matinee idol's immense girth is about the only real surprise in this breezy diversion, an homage to throwbacks that's too cheekily aware of its retro charms. Intentionally staged by François Ozon in a laugh-track-ready period sitcom that sees performers dolled up in candy-colored disco-era polyester, the effect is akin to a dinner theater production — one that begins with a hearty sampler of sumptuous fromage, and only gets guiltier as the evening progresses.
The eternally glowing Deneuve plays Suzanne, a bored trophy wife who's tarnishing, and Depardieu plays Maurice, her one-time lover, a truck driver turned maverick socialist mayor of their bourgeois town. They are thrown back together when a strike shuts down her family's umbrella factory (a wink to her 1964 role in the classic The Umbrellas of Cherbourg), where Suzanne's adulterous husband is taken hostage by the enraged workers. Together, the old flames must put aside their differences to work as a team. Suzanne discovers she's an incredibly effective manager, which inspires her to shake off doldrums, and fuels subplots that linger long after the main problem is resolved.
Potiche is a trifle not a truffle, a cute and largely disposable entertainment made watchable simply through the charms of the legendary leads. The film isn't really funny so much as mildly amusing, the sort of fluff we might also forgive if it starred Meryl Streep and Dustin Hoffman. Depardieu and Deneuve have earned the right to be mediocre, and if they want to take a lazy victory lap, so be it. By the end, when Deneuve sings a cheerfully bittersweet ode to better days of yore, you may be inclined to join her.
Opens Friday, April 22, at the Landmark Main Art Theatre, 118 N. Main St., Royal Oak; 248-263-2111.