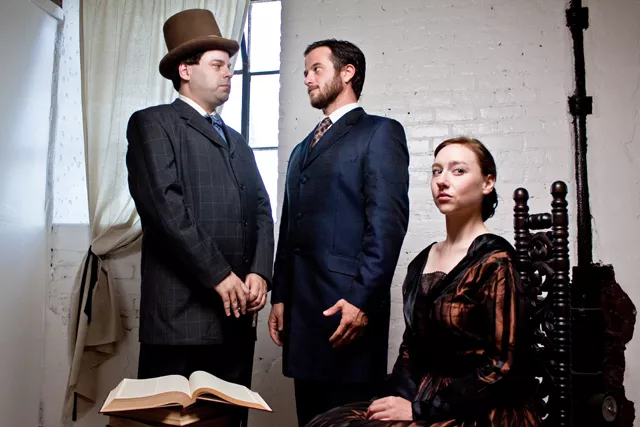 This is no time for fluff.
Even when it comes to weekend theater and a night on the town.
Mother Nature's throwing a fit, we're on the verge of another recession, campaign season's upon us and it's filled with moralizing yahoos and Congress is repugnantly stagnant.
But the political climate in 1880s Norway mirrors America today. Bear with me.
Like our current Congress, theirs was unstable and highly partisan. But the Norwegian liberals had the gusto to file a historic impeachment case against representatives of the far right Christian conservative government for infringing on the separation of powers — the same principle behind the separation of church and state, which if scrutinized would take large issue with the proclivity of scripture informing, oh, say, Rick Perry or Michele Bachmann's platform.
Both "separations" are based on the ancient Greek trias politica foundation of governance. Which used to mean something in the Western world.
The consequence of such extremism is under review in a rare production of Henrik Ibsen's masterpiece Rosmersholm from the Magenta Giraffe Theatre Company in Detroit. Freud dug it enough to write an essay about the female lead.
Since 2006, Magenta Giraffe has been operating from a small space at 1515 Broadway. And its founder, Frannie Shepard-Bates (who's sister to the prolific young music man Jesse Shepard-Bates) is intent on reviving the district with quality contemporary productions.
I recently had a conversation with the lady of the house. We spoke about this curious season opener, the casting process, our city's theatric energy, and Freud.
Metro Times: Henrik Ibsen is, more or less, responsible for crafting the modern drama form, right? I think I've seen A Doll's House (originally performed in 1879 at the Royal Theatre in Copenhagen, Denmark). What can you tell us you know about this Ibsen guy?
Frannie Shepard-Bates: Ibsen's plays, especially A Doll's House, are widely regarded as some of the best pieces of theater ever to be written and produced. His plays dealt with contemporary issues in a naturalistic way when most plays did not. His primary focus on characters, rather than plot, and his not-so-subtle views on often-contentious issues, earned him negative attention at the same time he was being hailed as a master dramatist.
MT: Your season opener, Rosmersholm, is a rarely performed Ibsen play. How did you discover it?
Shepard-Bates: I was searching for plays for the upcoming season, and I thought maybe we ought to produce a classic. I was looking through my collection of Ibsen's plays when this one popped out at me — I'd never heard of or noticed it before. It requires only six actors, which makes it affordable for our limited budget. Once I read it, I realized how amazing it is. We had to do it.
MT: What's your research process like? How do you pick the season's plays?
Shepard-Bates: I read a lot of plays, and I read a lot of reviews of plays in newspapers and online. I'm always looking for new material, as well as exploring older plays that seem like they'd be a good fit for us. My decisions hinge on how well plays fit our mission and whether there's a chance they could start a discussion about eliminating apathy, violence, prejudice or some education barrier. I'm also thinking about whether or not they'll bring an audience, which is important for re-establishing and expanding Detroit's theater district.
MT: How does Rosmersholm set the tone for the 2010 season? And what can you tell us about the season's other two plays?
Shepard-Bates: Rosmersholm sets the tone in that, as usual, we approach our productions very seriously — even the comedies. We're not about producing fluff. Each play largely deals with politics of one kind or another, and all of them denounce certain aspects of politics. The Altruists centers around characters who are political hypocrites and The Maids has much to do with classism.
MT: One of Rosmersholm's themes concerns the social inflictions caused by blind political and religious radicalism. Does that motif function in a way that at all mirrors our nation's radical political mouthpieces culture?
Shepard-Bates: One of the first things that struck me about this play is how relevant it is to our current political climate in the U.S. No matter the time or location, extreme politics destroys relationships and puts blinders on otherwise reasonable people. And it is true now, politicians on the extreme right and left rally people behind them, people who do not always have objective political viewpoints.
MT: Do you know why Freud was compelled to write an essay about Rosmersholm character Rebecca West? Or what it said?
Shepard-Bates: Freud was fascinated by the character of Rebecca West; she has the most complex backstory of any of the characters in the play. He was taken by her being motivated in many of her actions by what he deemed to be a classic Oedipus complex — which will be explained further when you see the play. I don't want to ruin anything.
MT: What kind of man is the protagonist, Johannes Romers?
Shepard-Bates: He has strong views, but does not come to any of those views on his own. He is idealistic to the extent of being somewhat childlike; he takes his cues from people around him.
MT: What does Rosmersholm require of the actors?
Shepard-Bates: The play has been very challenging for all of us because the characters are so densely layered. There is nothing easy about Rosmersholm. The actors have been very willing to dive in and explore these complicated psyches, and we've taken our time finding out how exactly to approach the characters. There has been a lot of experimenting and exploring, and, luckily, these actors are more than up to the task of figuring all of it out.
MT: How did you find the experience of casting this play as opposed to others? Was it particularly hard or easy?
Shepard-Bates: This play was actually fairly easy to cast. The actors I wound up casting really stood out in auditions, showing that they already understood the characters and situations to a certain extent. They are extremely committed and skilled artists, and it has been a joy working with them. The actors playing the three "lead" roles have been very brave and determined about figuring out what makes their characters tick, which is not all on the surface and must be dug for.
MT: Before we go, is it true that you are putting on theater workshops this fall?
Shepard-Bates: Yes. We are continuing our workshops for theater artists of all levels this fall and winter, on a monthly basis. One example of a workshop we teach is monologue coaching, which has proven to be popular and effective. All of the workshops are taught by Lisa Melinn, who brings a wealth of experience to the table and approaches these workshops with a sense of fun and encouragement.
MT: Finally: You've been fighting hard for four years to help grow the Detroit theater district. How's it going?
Shepard-Bates: It's certainly been very challenging, but I feel like we've gained a strong foothold in the theater community. The main challenge we have been facing is the usual one: coming up with the funds to allow the company to continue to thrive and grow. We'll be holding a number of fundraisers this season, and we'd love to see some new faces there. We'd just love to see more people coming to see theater.
Opens 8 p.m. Friday, Sept. 16, with performances at 8 p.m. Friday and Saturday through Oct. 8, as well as a 3 p.m. matinee Sunday, Oct. 2, at 1515 Broadway, Detroit; tickets suggested $18 for general admission, $15 for students, seniors and industry. Reservations at 313-408-7269 or magentagiraffe.org.