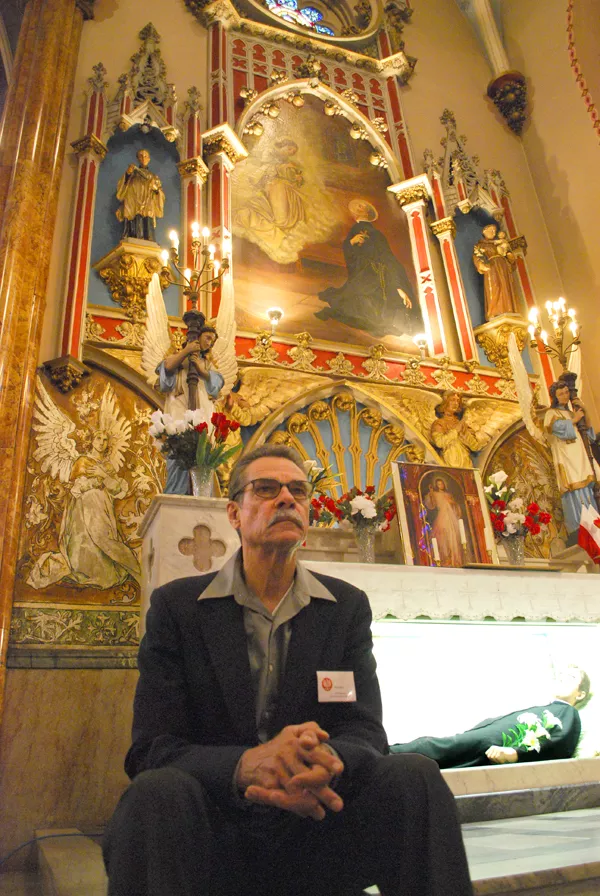 It's hard to hear the priest.
His voice has softened with age, he's got a thick Polish accent and his microphone keeps cutting in and out. Still, Father Edward Kaszak pushes forward with the Mass, a little in fluent Polish, some in halting English, giving the most unique liturgy in town.
There are only 12 parishioners seated in the pews at the front. There's room behind them for almost 2,500 more.
It's Sunday at St. Albertus Catholic Church in Detroit's old Poletown. But this isn't an official church anymore; the Archdiocese of Detroit closed it 20 years ago. These infrequent Masses aren't sanctioned anymore; they're performed by the freelance priest who bikes in from Hamtramck, wearing black clothes and a backpack.
The lights are kept low during services to save money, so the church stays dim except when light pours through the stained glass windows, bathing everything in soft colors. The heat is on just to keep the water pipes from freezing, so in winter the congregants inside wear winter coats.
The plaster in the 125-year-old church is chipping, the paint is peeling, scrappers have set upon the place with fervor, and the only thing standing between it and destruction are the efforts of a handful of people who've devoted themselves to keeping a magnificent relic alive.
There's no place else like it in Detroit. The way its tattered beauty still shows despite its age, the way a handful of people keep it going despite the challenges, the way its past was wild and sometimes even violent, it's a lot like the city it has stood in all these years.
"This place is not only a statement about God; it's a statement about us," says Bob Duda, 64, part of the Polish American Historic Site Association, the group that takes care of St. Albertus. "It's like a skyscraper — here we are folks, we're important, just as important as anybody else. We're going to be proud of ourselves. That's why they built churches like this; otherwise they could've done it in tents. It's a testimony to us and our history and our heritage."
St. Albertushas been here since 1872, when about 300 immigrant families from Poland started the church in a small, wood-frame building with a single priest and his one-armed assistant, a veteran of the Polish Wars.
A new priest fresh from Poland, Father Dominic Kolasinski, came a few years later and rallied the parishioners to build a bigger church with a Gothic Prussian design, to remind them of the lavish, medieval churches they left behind in Europe.
Not long after the new church opened in 1885, the local bishop suddenly removed its charismatic priest and appointed a replacement. The congregation split into camps for and against the move. Kolasinski's supporters got so riled up by his ouster they blocked the new priest, Father Joseph Dombrowski, from celebrating Mass. When Christmas Day came a few weeks later the angry parishioners, fueled by holiday zeal, organized a protest march to the diocesan's office that got so out of hand a 24-year-old man got shot and killed by the mob.
The angry faction soon split off and followed their disgraced priest down the road, where he established a new church, Sweetest Heart of Mary, at Canfield and Russell, where it still stands today. It quickly had thousands of its own parishioners.
The two groups, so notorious around town they earned the names Kolasinskians and Dombrovites, kept at each other's throats for years, like gangs of Old Detroit. Another altercation between the two factions on Christmas Eve 1891 led to the killing of a 19-year-old man.
All this because a priest was replaced at a church.
Eventually, both groups settled down in their own districts. By the turn of the century, 2,000 families were attending St. Albertus, even as it shared a neighborhood with four other Polish Catholic churches. That's how densely populated Poletown was back then.
But as the parishioners started moving out of the city, the number of families belonging to St. Albertus was halved by the 1930s, and by the 1950s was down to 700. Its school closed for lack of enrollment in 1966. And once the church drew only handfuls of worshippers on Sundays, it was doomed. The last official Mass here was in 1990.
A handful of die-hards though, begged church officials to let them keep the place. They convinced the Archdiocese to sell them the entire property — church, rectory and school — for a mere $100, plus the costs of maintaining it as a museum.
"We didn't want it torn down," says Brian Baka, 65, one of the three remaining original members of the group that bought it. "My dad went to school here, my parents were married here, my dad's funeral was one of the last ones here. I couldn't let it go."

Step inside St. Albertus and it's easy to see why the church generates such devotion from its caretakers.
The outside is relatively plain, but the interior is astonishing. Color and texture and detail shine out from every direction. It's psychedelic, bizarre, otherworldly; like some mystical experience expressed in architecture. A plaster St. Albertus looks down from above the main altar, surrounded by angels of various hierarchies floating alongside him, standing on platforms, leaning out from walls. There are flowers and candles everywhere, and little flames cast flickering shadows onto the kaleidoscope walls. The curved plaster ceilings are painted a soft blue and dotted with tiny gold stars, a fanciful depiction of the heavens beyond.
Mannequins stand near a sepulchre at the rear of the church, clothed in Polish folk costumes, clutching baskets of food, eternally heralding Easter. Large, painted sculptures of holy figures stare at you from all directions.
The most arresting displays are the altar-flanking, illuminated glass coffins containing life-size mannequins representing the corpses of St. Stanislaus and St. Hedwig, two Polish icons. They lie in stiff repose, faces pale, hands folded, eyes shut.
"It's a reminder that death is coming," Duda explains. "Be prepared however you want to be prepared — religiously, with your family, but be prepared. Death was a very important part of life in the 19th century because people didn't live very long, and they'd die horrible deaths from plague or broken bones or something."
The exuberant ornamentation at these old churches was meant to elevate those gathered there to a higher state of mind, to evoke a sense of holiness. It's a big reason the caretakers are so invested in St. Albertus.
"When I come here, I feel like I've been to church," Baka says. "I don't like the modern churches. None of us do. I don't feel like I've been to a church when I've been in those."


Like anything left behind in the city, the church was soon at the mercy of the scavengers and vandals who make quick work of empty places.
Scrappers tore the old school apart. Thieves broke into the rectory. They got into the church. They even took the picnic tables from the courtyard, after taking the rainspouts. Surrounded by nothingness out here, there were no witnesses, no calls to police, nobody standing in their way.
The association had been fundraising for a new boiler to keep everything from freezing, but then scrappers got on the roof and tore away the long copper panels. That added $12,000 to the group's bills.
Half their efforts consist of fortifying the place against the never-ending onslaught. The other half is raising money to keep it alive.
For the past six years, supporters have organized the St. Albertus Fest, a day of bands, food and tours of the church. They also rely on donations from long-gone residents who, though they don't attend church here anymore, want to keep this last connection to their childhoods alive.
Duda, whose family came from here, whose father was born two blocks away, who spent countless Sundays kneeling here, is among those whose personal ties to this place fuel his passion for it. Yet beyond the spiritual reasons, for him and for others the dazzling beauty of this old church is reason enough to save it.
"That's why we keep it going," he says. "They don't make 'em like this no more."