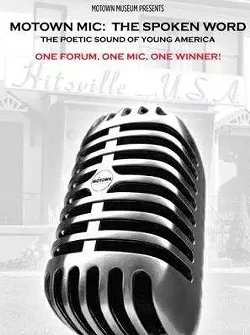 The Motown Museum will give Detroit's aspiring poets and musicians their time to shine when they present the grand finale of the third annual
Motown Mic: The Spoken Word
, at
8 p.m. on June 24 at The Garden Theater in Detroit
.

The event will be hosted by Jessica Care Moore, renowned poet and returning star on Russell Simmons'
Def Poetry Jam HBO Series.
The event is open to the public and will feature performances from the ten local poets and artists that were selected as finalists from a series of spoken word events hosted by the Museum earlier this spring. The finalists will perform an original, Motown-inspired poetry piece with the winner being selected from a panel of judges. The winning artist will receive $1,000, have their piece published on a literary broadside and will be featured on the Motown Museum website as the
2016 Motown Mic: The Spoken Word Artist of the Year.
The show will also include a performance by Jessica Care Moore, and her band the Jessica Care Moore Quartet.
Robin R. Terry, CEO and Chairwoman of the Board of Trustees of Motown Museum, made the announcement: "We are committed to inspiring the next generation of artists to find and share their voice and artistic talents and Motown Mic allows us to witness some of Detroit's most talented artists and celebrate not only Motown's rich musical history but its influential spoken word legacy as well. It is our hope that the community and Motown fans of all ages will join us for this entertaining and unique experience and support these incredibly talented artists."
Motown Mic: The Spoken Word
was created to pay homage to the Black Forum Label—a Motown spoken word label created by Berry Gordy and the Motown Corporation in the '70s as a platform for Black expression and education. The label served to capture the voices of African American poets and orators such as Langston Hughes, Stokely Carmichael, Elaine Brown, Ossie Davis and Dr. Martin Luther King Jr., whose moving and inspirational "I Have A Dream" speech was recorded by the label. As Motown revolutionized the music industry, its Black Forum Label documented the social consciousness of a generation—
Motown Mic: The Spoken Word
is a continuation of that rich legacy.
Pre-sale tickets for the event are now available for $20 at motownmuseum.org/motownmic and will be sold at the door for $25.

The Garden Theater is located at 3929 Woodward Ave. in Detroit, Michigan 48226. For more information, please visit motownmuseum.org or call 313.875.2264.