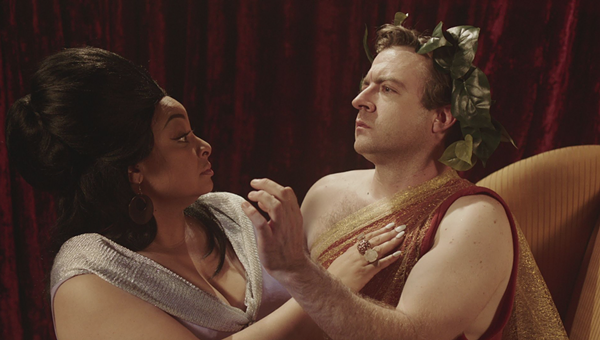 "Give me my robe, put on my crown; I have Immortal longings in me," Cleopatra demands, before slamming a PBR and a shot of Fireball.

Wait, what?

First performed in 1607, William Shakespeare's tragedy Antony and Cleopatra is finally getting Comedy Central's Drunk History treatment, thanks to a shamelessly sloppy troupe of actors and Shakespeare in Detroit's artistic director, Sam White.

On Sunday, Hamtramck's Planet Ant will host an unforgettable (or depending on how much you can throw down, unmemorable) one-night-only inebriated staged reading of Antony and Cleopatra — and it's almost completely unrehearsed.

"They get the scripts in advance to read through," White says of the staging. "But the impromptu piece of it is what makes it more informal and fun."
While the play's original runtime is upwards of three and a half hours (according to the modern day performance at the National Theatre), the Planet Ant version has been scaled back to just an hour and 15 minutes because, well, there's going to be a lot of drinking.

"The players have the option to drink any time the narrator says Antony and/or Cleopatra," White explains. "They will be drinking PBR and white wine. She adds that the wine was chosen to represent the "ornate" lifestyle of the Egyptians and the PBR is more reflective of the "laid back Romans."

The drinking isn't just for the players. In fact, inebriation is encouraged all around — which is why the ticket price includes a complimentary beer or wine before the performance as well as a scheduled intermission for, you know, more drinks.

White says that teaming up with Planet Ant, a venue with a legacy for comedy, is the perfect juxtaposition for one of Shakespeare's most beloved tragedies. The struggle with making Shakespeare accessible to unlikely audiences almost always comes down to intimidation, which is why an "inebriated" staging creates the ideal atmosphere for thespians and partiers alike.

"Our mission is always to bring the Bard to people in ways they, perhaps, don't always expect and to take the elitism and skepticism folks sometimes feel out of the conversation," White says.

"The groundlings drank and shouted in Shakespeare's Globe and we aim to honor his work by using platforms that aren't stuffy and the opposite of fun. If Wiliam himself were in the D this weekend or hanging out in Hamtramck, he would be right there drinking and reading with us — and loving it."

Doors for Planet ANTony and Cleopatra open at 6 p.m., while the performance itself begins at 7 p.m. Tickets are $25-$30 and can be purchased here.

Get our top picks for the best events in Detroit every Thursday morning. Sign up for our events newsletter.