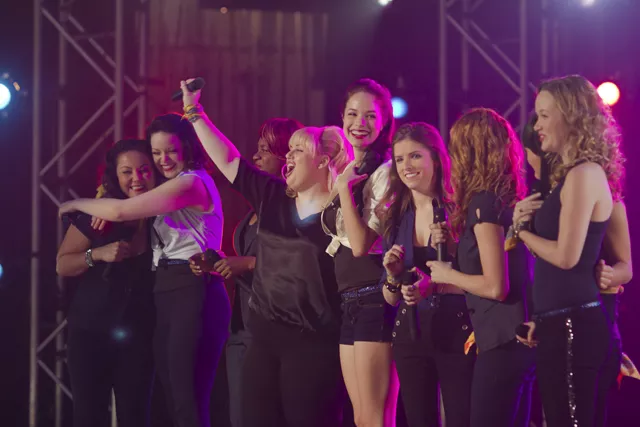 Pitch Perfect| B-
The prospect of hearing chipper college freshmen belt out a cappella versions of Bruno Mars songs for 90-odd minutes sounded very much like my personal eighth circle of hell. So, it was a rather pleasant surprise that Pitch Perfect turned out to be an agreeable, funny and occasionally rather snarky romp through the musical comedy fields freshly plowed by Glee. The flick tries to thread the needle between being a parody of an aggressively upbeat, "Let's put on a show" multicultural musical, while actually being an inspirational underdog competition drama and cool college party romp. 
Former Oscar nominee Anna Kendrick (Up in the Air) is several notches better than the material, but she gamely tackles all the slapstick and the singing with surprising aplomb. Kendrick's feisty cynic Beca dreams of a career as a famous DJ and record producer, and is only humoring her professor father by enrolling in Barden University, before chasing her destiny in L.A. Her gig at the college radio station mainly involves filing albums for an aloof upperclassman, and her roommate is a chilly Korean girl who seldom speaks, so, to kill time, Beca signs on with the "Barden Bellas" show choir. The Bellas, and their perfectly prissy blond dictator Aubrey (Anna Camp) are bent on revenge against their hated cross-campus rivals, the frat boy brat collective called "The Treble Makers." Before they out-perform the competition, this oddball crew of girls has to get their own act together and resolve the clash between inventive, irreverent and plugged-in Beca and perfectionist, tradition-bound tyrant Aubrey.
Will the Bellas redeem themselves for past failure and make the national finals? Will Beca find bland romance with the hated rival's drippy nice guy Jessie (Skyler Astin)? Will there be dangling subplots? Will somebody slip in a pile of vomit? I think you can pretty well answer these questions already. 
Recycled as it is from the spare parts of fun fluff like "Bring it On," Pitch Perfect understands its own fizzy pop irrelevance, and wisely puts the emphasis on getting laughs. The radio hit song mash-ups are nothing we haven't heard before, but they are delivered with high-spirited relish. TV director Jason Moore should tip the casting coordinator, as the loaded roster of funny actors keeps things buzzing along nicely. Comedy aces John Michael Higgins and Elizabeth Banks are on hand, putting hilarious spins on the clueless, inappropriate TV color commentator character immortalized by the great Fred Willard in Best in Show. 
As bawdy party starter "Fat Amy," Rebel Wilson doesn't just steal scenes; she fences them and then launders the money. She's a comedic killer, and sinks her sharpened fangs into every raunchy line that comes her way. Wilson utterly dominates, but even in the tightest of ensembles, there's bound to be a standout.