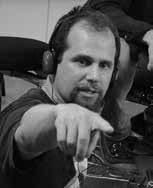 Michael Manasseri was proud to shoot indie comedy
The Pickle Recipe
in Michigan, which has become his new home.
Manasseri is a bit of a rarity: a Hollywood import to Detroit. Raised in Maryland and New York, Manasseri found success in the '80s and '90s as a child actor, including guest roles on popular shows like the
Wonder Years
,
Charles in Charge
, and
Wings
, and a four season run as a star on the TV version of
Weird Science
.
While he still acts on occasion, Michael began shifting his focus behind the camera in the mid 2000s, a process that was swiftly accelerated by a move to Michigan in 2010. Initially he came here to be near his parents, who had themselves relocated to the Rochester area a few years earlier, but Manasseri found a fertile soil thanks to the state's then-vibrant film incentive program, and was inspired by the creative community blooming locally.
Two of the contacts he made in town were Gary Wolfson an Sheldon Cohn, who toiled together for many years in the creative department of the giant Doner advertising, where they began collaborating on film ideas, one of which was inspired by Wolfson's own grandmother's beloved pickle recipe, which was sadly lost to time. Those memories congealed into a finished script, one that appealed directly to the Italian Manasseri, even though as he jokes "I'm the only creative above the title on this project that isn't Jewish".
What the director did find — in a comedic tale about a Grandson's (Jon Dore) desperate attempt to squeeze the family's cherished recipe out of the clutches of his overzealous Grandmother (Lynn Cohen) — was a universal story that spoke to family, tradition, and the preservation of a culture that is quickly disappearing.
Old fashioned kosher pastrami palaces are harder to come by these days; as exploding real estate prices and changing tastes have forced many into carnivore heaven, though the film tries to celebrate what remains. "When I was a kid in New York, Deli's were still flourishing," says Manasseri. "The Carnagie was huge, it wasn't just a tourist trap, and there was like Lindy's cheesecake." These were the haunts of legendary hambones like Milton Berle, Henny Youngman, Woody Allen. "The idea of the 'deli' is like great Jewish comfort food, and a place where artists and creatives would come together and just hang out, because it's what they could afford," Manasseri says.
Detroit has its own rich deli culture, though one that has been diffused a bit by the erosion of once tight knit inner city ethnic enclaves like the Dexter Davison neighborhood, and by changing demographics which have brought new immigrants to old neighborhoods.
A prime example is the place that served as the movies central location, Hygrade Deli, a southwest Detroit institution on Michigan avenue that has endured through six decades of change, upheaval, and recent revival in the city.
Manasseri was proud to show off the joint to the public. "Hygrade has actually been in a bunch of movies, but I would have to say that this is their starring look since we were there so much," he says. "We shot there for a solid week and then two days of pickups." Serving as movie location is a major undertaking, and though the budget of a small independent comedy isn't huge, the production made sure to take care of Hygrade financially, and owner Stuart Litt took care of the crew spiritually.
Litt enthusiastically served as a sort of technical consultant and morale officer. As Manasseri explains, "Stuart was great. Being one of the last guys in the deli biz, he's used to early hours and hard work. He would be there all the time: 14 hour shoots day after day. If we needed a pastrami sandwich for a shot, we would have him make it!"
While this is a story about nostalgia and a Jewish tradition, the filmmakers were sensitive to modern realities and worked to express that in the multi-ethnic, multi-generational mix of the cast. "We wanted to make sure that we showed what we felt was the real diversity of metro Detroit, and (Grandma Rose's) kind of diverse, extended family of deli staff, it was in the script all along," he says. "While Manasseri had the benefit of established pros like David Paymer (a University of Michigan grad) and Lynn Cohen in the leads, all of the smaller speaking parts were cast in Michigan.
"I know the talent pool really well in town, but we really struggled with it, to make sure we had the right mix of actors that could pull it off, and in the end I think it all worked out," Manaserri says. Hopefully audiences agree with him — and Manaserri can find more stories to tell, right around the corner.
The Pickle Recipe
opens on Dec. 16 at the Michigan Theater, 603 E. Liberty St., Ann Arbor; 734-668-8397; michtheater.org.


The Pickle Recipe Official Theatrical Trailer from Jeff Lipsky on Vimeo.