For many years, Jeff Morrison preferred to shoot nature photography and architecture. Eventually, he found he could use his telephoto lens to shoot another type of creature — the many sculptures and gargoyles of Detroit's buildings.
"It's a little easier to get the shot," he jokes.
As Morrison began exploring Detroit's architecture, setting his sights high above the city streets to the sculptural ornamentation of its skyscrapers, an entire world of colorful characters opened up to him. Morrison calls them Detroit's "silent guardians," and the photos and his research are collected in Guardians of Detroit: Architectural Sculpture in the Motor City, which Morrison will celebrate with a release party at the Detroit Public Library on Saturday.
"It's really easy to walk by without seeing them," Morrison says. "I've done a few tours with some friends and people that have spent a lot of time in Detroit, and they're like, 'Wow, I've walked past this a million times and never seen it before.'"
The project kept growing and growing: He started noticing sculptures on buildings while on his way to photograph other buildings — such as the guard dogs, lions, and basilisks on downtown's Bankers Trust Company Building, or the symbolic reliefs on the S. S. Kresge Headquarters (like an eagle to symbolize the strength of the U.S. dollar — Morrison points out that ironically, the stock market crashed soon after the building opened, ushering in the Great Depression).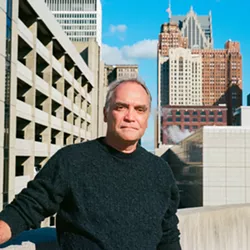 Morrison's telephoto lens came in handy, bringing sculptures that would otherwise be virtually invisible to the naked eye in full view. Given the level of detail in some of the sculptures, it's remarkable that the designers intended the sculptures to be viewed from afar. "You really see it in the old Wayne County Building," he says. "The pediment on the building is five stories above the ground, right? It looks as if the amount of detail and a character and expression in the face was meant to be viewed at ground level." Some intricate sculptures are some 20 or 30 stories above the ground. (Morrison reiterates that all of the photos were taken at ground level. "I did have a pastor at one of the churches — he saw some of the pictures, and he gave me a very stern look and he asked if I was climbing around on the outside of his building," he says.)
Morrison found Detroit's sculptures draw from a wide array of influences. The Trinity Episcopal Church, for example, was dedicated in 1892 but built to mimic the style of a 14th century Gothic British church, while the Penobscot Building, completed in 1928, mixes Roman, Native American, and art deco influences. The buildings in the book are arranged chronologically, with the project encompassing more than 50 buildings and 300 pages.
One surprising thing Morrison realized while researching the book was just how prolific Detroit's skyscraper boom was. "You have the Buhl, the Penobscot, and the Guardian building all within a block or so of each other," he says. "They're all three skyscrapers with banking facilities and the ground floor, and retail, and then offices above. They're all designed for the same purpose. They were all designed by the same guy, Wirt C. Rowland, with sculpture by Corrado Parducci. And you look at them and they're all so different. They went up at about the same time, within about four or five years' time. And it's just incredible to look at the variation in them and to realize they all came from the same two people."
Morrison says he got into photography because of his father, Roger Elliott Morrison, an amateur photographer to whom the book is dedicated. (It must be genetic: Full disclosure, Morrison is the father of photographer Noah Morrison, a frequent Metro Times contributor. Morrison's maternal grandfather was also a photographer.) In the spirit of learning, Morrison has also released a shorter children's coloring-book version of the book, and says he is available to give lectures on his research.
More information is available at guardiansofdetroit.com.
Guardians of Detroit has a release party from 2-4 p.m. on Saturday at the Music Room of the Detroit Main Library; 5201 Woodward Ave., Detroit; 313-481-1300; detroitpubliclibrary.org. Admission is free.
Get our top picks for the best events in Detroit every Thursday morning. Sign up for our events newsletter.