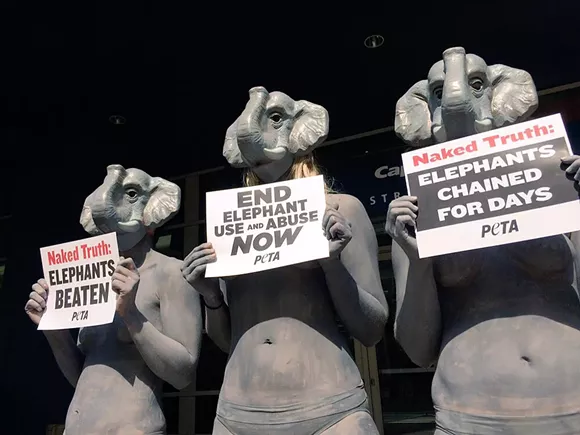 The People for the Ethical Treatment of Animals are at it again.
The animal rights activists will be protesting the UniverSoul Circus performance at Chene Park tomorrow (Tuesday, September 13) night by sending representatives dressed in tiger costumes.
The protest is meant to bring light to the fact that UniverSoul subcontracts a man named Mitchel Kalmanson, a notorious big cat exhibitioner who's been cited numerous times by the United State Department of Agriculture for failing to provide proper veterinary care to his tigers and for keeping them in "foul-smelling, maggot-infested" with little to no exercise, according to PETA.
Of course, the elephants used in this particular circus don't get much better treatment, PETA reps say. Trainers use bullhooks — which look kind of like the poker you'd use to stoke a fire — to coerce them into doing unnatural tricks. Worse, these highly social animals are forcibly removed from their families, according to PETA.
"The tigers, elephants, and other animals used by UniverSoul Circus are imprisoned, denied everything that's natural and important to them, and bullied into performing dangerous stunts under the threat of physical violence," says PETA Foundation Captive Animal Law Enforcement Counsel Rachel Mathews. "PETA urges consumers never to buy tickets to circuses that use and abuse animals."
The demonstration will begin at 6 p.m. sharp, just outside Chene Park Amphitheatre at 2600 Atwater St., Detroit.