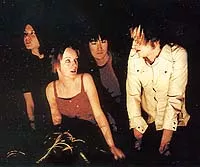 Four months ago, I was prepared, willing and able to go to Europe and spend a week on tour with the Von Bondies, to do a comprehensive, 6,000-word profile of the band. I was, that is, until the group and/or publicist nixed the idea. VB singer Jason Stollsteimer explained to me that the band really didn't want to be profiled as such, and that, basically, they are keen to be taken at face value. My argument was, well, the VBs are a compelling subject. Do they have something to hide? What they've got going on musically — with a pivotal major-label debut album imminent — is interesting enough to merit a piece that elucidates the personal strengths and weaknesses of a rock 'n' roll band just finding its legs in the mechanics of the music biz.
OK, so they blew me off.
In any case, the new Von Bondies Sire-released disc, Pawn Shoppe Heart, hits these shores Tuesday, March 9, to be celebrated with a record release show that night at the Stick. But Detroit ain't exactly paradise for the VBs, whose members aren't looking forward to the Detroit show. "We've had death threats," Stollsteimer told me last week — fallout, I inferred, from the "rivalry" and alleged pounding he received from his erstwhile booster/mentor, Jack White, in December. "There are obsessed freaks in Detroit. It still sucks here for me. We didn't even want to do our show on March 9. White says it was self-defense, but the only bruises he had were on his knuckles."
Well, Jack White's shaky bonhomie and his celebrated punch-up (also at the Stick) did nothing if not further the Von Bondies' name recognition. How often does a band with a few thousand records sold get name-checked on CNN? Stollsteimer tells me the Stick fracas helped and hurt. And he's quick to point out that so far the European response to the record is squelching any White-versus-Stollsteimer yak. The single, "C'mon, C'mon," did enter the UK charts, landing in the Top 20 earlier this month, and the album moved 11,000 copies in first-week sales there.
See, the Von Bondies are now a very consumable package — just look at the new photos: On good genes alone, guitarist/singer Stollsteimer and drummer Don Blum are poised on the plinth of pop stardom; they're lithe with the attendant cheekbones, sporting tousled hair and perfect skin — they're now sugary pinup fodder for teen girls. Guitarist Marcie Bolen and bassistCarrie Smith are sirensque in down-dressed glit; sweaty palms for pubescent boys.
What's more, JT LeRoy — that ex-junkie and son of a prostitute who at 19 wrote the Novel of His Generation in Sarah — who's now the Warholian It boy for swooned-over Hollywood margin-dwellers (Courtney Love, Liv Tyler, Wynona Ryder, directors Steven Shainborg and Gus Van Sant, etc.) is a huge fan of the Von Bondies.
LeRoy, who happens to be one of my favorite living authors, says he wants to fuck not one or two, but all four members of the Von Bondies. Sheesh, you can't get a better endorsement (or one with timelier cred) than that. You can't. Unless you factor in Seymour Stein — the guy who who inked Madonna, Ramones, Dead Boys, Talking Heads and the Smiths — who personally signed the Von Bondies.
Such worthy international flutter renders moot the detectable anti-Von Bondies bias that drifts through certain Detroit circles. Forget the tired outsiderisms of indie hipsterdom, the VBs unabashedly want to sell records. And Pawn Shoppe finds a young band disengaging from the peer-pressure-intensive Detroit garage scene, a band blossoming from timid pups just learning their métier into a rock 'n' roll band with a chance to sell boatloads of records to American kids.
"We worked so hard to separate ourselves from it [White Stripes]," Stollsteimer says. "We consciously made a decision to try it on our own."
The White Stripes connection, Stollsteimer says, certainly helped the band in the UK but, he adds, it "didn't do diddly here."
The record sounds like a major-label release. And there's nothing wrong with that. The whole point of making an album in a big studio with a real producer and having it marketed with scads of real money is to get as many sets of ears as possible to perk up and pay attention. There is absolutely no other reason to have anything to do with a major label.
On Pawn Shoppe, the band actively embraces a pop sense, adding color to the otherwise gray-toned template of Detroit-provincial, working-class rumpus laid forth on 2001's underwhelming Lack of Communication. What's great is that the VBs openly admire and embrace the tattered elegance of T. Rex, Sweet and Holly and the Italians as much as they clumsily cuddle early British R&B, the Seeds and Otis Redding. Nine of the 13 songs clock in at under three minutes. Producer and ex-Talking Head Jerry Harrison imparts a radio-ready, arena-worthy shimmer, which should make stateside airplay a foregone conclusion.
And the intro to the record is, if nothing else, a fist-to-face band missive: The Gary Glitter-y glam-beat of "No Regrets" announces with arena-stomping aplomb that the Von Bondies are no longer a scruffy baby-band of Detroit coattailers. Walls of sugary power-chords support Stollsteimer's melodic, almost confessional, lines: No one takes you seriously when you're 24/ No, you really haven't lived life yet/ So you ain't got no regrets.
The burly and self-detonating "Broken Man," though recorded months before Stollsteimer was bloodied at the Stick, seems topical if not outright ironic. It also affirms a subtle theme of paranoia that seems to waft throughout the record. Sings/shouts Stollsteimer: I'm a broken man/ /this here's my broken band/ from a broken land called Detroit city! … There's no blood on these hands.
On "Tell Me What You See" — a bashy garage romp amped-up midway with 4/4 handclaps — Stollsteimer hoots: Everything is perfect/And then I get this phone call/Telling me something I said or did that wasn't even my fault … It's autobiographical storytelling that could be taken any number of ways.
Elsewhere, soured love is soup slurped up easily, particularly on "C'Mon, C'Mon" (the album's first video), which is as perfect a pop single as anything out now. The single-ready "Not That Social" (You're not that social/Just a good drinker) mixes Buzzcocks' fuzz, chords and flurried beats with a Holly and the Italians sheen: Carrie Smith takes lead vocal, and her bored croon is as seductive as any late-'70s estranged punk chanteuse. "Been Swank," is a heavy-metalled, audaciously veiled letter of affection to Soledad Brother Ben Swank.
Of course, rock 'n' roll never works without pretension, and the record gets suspicious midway: "Mairead" is a five-minute-plus slow boat throwaway about a band sycophant, equal parts Cramps, Doors and the Seeds. The heady downstroked guitars and the glitter rock/Cheap Trick ride-on-the-snare drum beat keeps "Poison Ivy" from skittering into punk never-never land. A bonus track offers a gloriously messy, tongue-in-cheeky take of Otis Redding's "Try A Little Tenderness."
Stollsteimer's vocal gymnastics sound mannered at times, and on "Right of Way," he dons an Eric Burdon scrape over a verse centered on a "Pushin' Too Hard" to-and-fro chord change. And can we really believe Stollsteimer when he yelps "self-destruction is my destination"? The guy eschews drugs and rarely drinks?
The record's shortcomings — linear vocal lines masquerading as melody and hammered out over guitar riffs — are made up for with exuberance. As a singer, Stollsteimer's confidence in the past three years has ripened exponentially and he's developed a strong base as a clever songwriter. The occasional call-and-response backing vocals of Bolen and Smith have as much randy, bubble-gum snapping, high-school hipsway as anything by the Donnas.
For a guy who admits that in 1999 he thought the Stooges were from New York City, Stollsteimer (and band) slip in many loving salutes to Ron Asheton, and the MC5.
The bouts of boozing and tired routines of, say, the Vines and Kings of Leon are tedium in comparison to Pawn Shoppe Heart, which overflows with unsullied sparkle. And with nu-metal slowly being displaced on the pop charts by pop-driven retro-vaudevillians like Jet and the Darkness, the Von Bondies timing is, in a word, textbook.
"We've come a long way," says Stollsteimer. "We never had high hopes of being rock stars — you never think that coming from Michigan."
The Von Bondies will perform Tuesday, March 9, at the Magic Stick (4120 Woodward Ave., Detroit) with the Avatars and the Valentinos. Call 313-833-9700.
Brian Smith is the music editor of Metro Times. Send comments to [email protected].