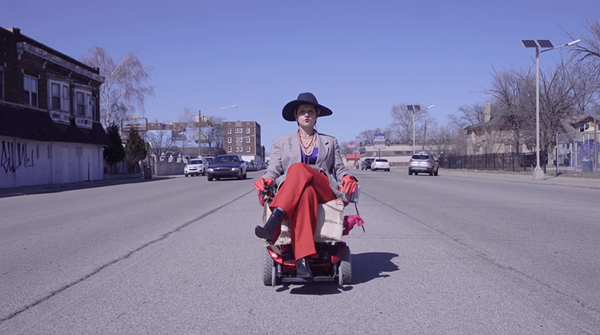 If you've ever stayed up past 1 a.m., you've likely caught a glimpse of a paid programming commercial where the simple, yet dramatized task of opening a pickle jar causes a flurry of anxiety and frustration. These actors who fumble with impossible bra straps and back-straining lightbulb changes are, in fact, just that. Paid actors — conduits of a distorted reality.

The name has been adopted by Detroit-based multi-disciplinary artist Dessislava Terzieva, who founded the sustainable clothing label *Paid Actor. Terzieva's designs reflect a fine-tuned aesthetic that goes beyond trend. The label, which uses reworked preexisting garments to then make one-of-a-kind wearable art pieces are, as Terzieva puts it, an extension of her fine art practice.

"I use fashion as a vehicle, as a communicator — a living sculpture," she says. "The clothing holds a story and the story ends up being told by the person wearing it."
Terzieva
recently teamed up with digital artist and filmmaker Tony Katai for a series of seven short films that correspond with the colors of the rainbow.
"We are modern day magicians who like to play with fire," Terzieva says of her collaboration with Katai. "We give ourselves to the ceremony and learn from the ashes."

The latest installment of one-night-only exhibitions, *Paid Actor will debut FIDANA (which is Bulgarian for "sapling" and represents the color red in the rainbow spectrum) on Thursday, May 17 at Electric Studio. The film will "explore and embrace the absurd an the obscure." In addition to the screening, the event will introduce the audience to a new collection of wearable sculptures and installations inspired by modern day surveillance and women of the suffrage movement.
"The two go hand in hand," Terzieva says, "but you'd have to come to the show to find out how."

The event takes place on Thursday, May 17 from 7 p.m.-11 p.m. at Electric Studio; 51 Harper Ave., Detroit; 313-460-9949;electricstudio.us; Event is free.


Get our top picks for the best events in Detroit every Thursday morning. Sign up for our events newsletter.