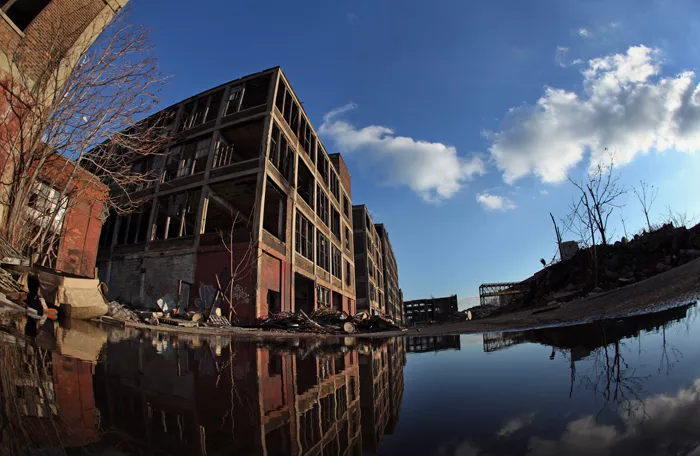 Shortly after landing a gig as a video journalist on the staff of the Detroit Free Press, Brian Kaufman became obsessed with the Packard Plant. Of course, you can't really blame him. The sight of the blighted Packard may be so familiar to Detroiters that it's easy to forget it's there, but most cities don't have a sprawling, 40-acre Albert Kahn-designed abandoned auto plant in their midst. Kaufman, coming to Detroit from a small mountain town in southern California, was drawn in almost immediately.
"Like a lot of people who come here, I was intrigued and fascinated about what a lot of these huge empty spaces were," Kaufman says. He first visited the site in 2008 while working on short video projects for the Free Press. ("The whole Kilpatrick saga, I was working on that every day," he says.) It wasn't until 2010 that he started shooting the plant, taking short excursions to visit the site every chance he could.
"I spent the first year just going there and experiencing it and shooting it, in every type of weather, pretty much every season," Kaufman says. After getting a bunch of initial footage, Kaufman got the idea to put it together into some sort of long-form documentary — though he wasn't sure exactly what. He pitched it to his bosses, but the project got derailed following a news story in 2010 involving the Packard's taxes that temporarily zapped interest the newsroom's interest in pursuing a larger feature.
Kaufman kept shooting, though, and a couple of years later the Free Press was interested again, unveiling an ambitious multimedia feature called "The Packard Plant. Big. Ugly. Dangerous." Kaufman first released a short version of his doc as part of that project. Plans for a longer film were again derailed when Kaufman was asked to leave town for a few months in 2013 to teach video journalism — but the delay turned advantageous, as big news broke that the plant had found a new owner, changing everything.
All the while, Kaufman researched the plant — and it served as a good primer to the new Detroiter for the entire history of the city. "I have a quote in the film from Bill McGraw from Deadline Detroit. He says the Packard encapsulates the whole 20th century history of Detroit," Kaufman says. "I think that's probably pretty accurate.
"I really feel like it took me probably close to five years to feel like I understood the city," he continues. "It's so complex. What I found most fascinating about this project was diving into the history of the place, diving back into Detroit in the '20s [through the] '50s, and unearthing all these old photographs of the plant in action. Just researching this film has given me a huge perspective on Detroit that I didn't have."
Kaufman says a lot of people don't understand why the Packard looks the way it does. "A lot of Detroit buildings, the businesses left and they just crumbled," he says. The plant opened in 1903, and closed as an auto plant in 1958, though it continued as industrial space until the '90s when the city evicted tenants and began tearing down buildings. At its height, the Packard was a veritable miniature city, with almost 200 tenants.
Since then, the site has become somewhat of an unorthodox tourist attraction, with visitors only getting more visible as Kaufman continued to film. Kaufman says interest in the plant was piqued in 2011 when a news story ran saying the plant was to be torn down. "When that story came out, for three weeks after, everyone thought that was the last chance they were going to get to see it," he says.
Kaufman met with American ruins photographer Seph Lawless at the plant this past summer, and he says the two of them were baffled at how popular the destination had become, despite its many dangers — human, animal and structural. "The day we were out there, there were 20 cars in the parking area," Kaufman says. "We met, like, 15 people from a photojournalism class from a college in Boston wandering around. Every weekend there were a hundred people out there," he says.
Kaufman has visited the site many times without incident, sometimes even going alone if he couldn't find a sidekick. He attributes his luck to the low profile he kept. "I've seen people there who open their trunks and are pulling out two cameras, lenses and tripods," he says. "I always went over there with one camera body and two or three lenses, tops."
Kaufman shot on the down-low, using the video function on a relatively discreet digital SLR camera — though you might not know it from the resulting high-definition footage. Throughout the film, Kaufman zooms in and out, offering wide shots of the expansive site and at times homing in on gritty textures, rendering the plant an abstraction.
"That close-up macro lens became my favorite tool there. It's so easy to get overwhelmed by the place," he says. "I tried to take a really close, minute look at things and tried to find details within it."
For the soundtrack, Kaufman enlisted noted poet (and onetime Packard employee) Philip Levine to recite "The Last Shift," a surreal, apocalyptic poem he wrote decades earlier (Kaufman describes the poem as "oddly relevant, even now").
He's also excited about the music he acquired for the film. "Some of it is from a local hip-hop DJ called Nick Speed — he brings this gritty, urban feel to the music," Kaufman says. The other half is by a band called Guitar Republic, three avant-garde classical guitar players from Rome, Italy. "The three of them play music that doesn't sound anything like an acoustic guitar band," Kaufman says. The result is both eerie and beautiful — the perfect score for the Packard, the same as which could be said about it.
Kaufman is grateful for the people at the Free Press for giving him the freedom to work on the project. "My bosses were always pretty good about — if there was a big storm coming in or if there was really nice light — giving me time to make time to do it, to go there and spend some time," he says.
"Working at a newspaper, I know a lot of photographers who are in bad spirits, not getting to do what they want," he says, referencing downsizing on newspaper staffs across the country and photography increasingly being seen as disposable. "We've been really fortunate here to get to do this type of work."
Packard: The Last Shift premieres at the Freep Film Festival at 8 p.m. on Thursday, March 20, at the Fillmore Detroit; tickets are $10 for general admission and $25 for VIP. The festival continues Friday through Sunday at the Detroit Film Theatre. See freepfilmfestival.com for details.