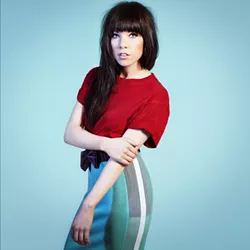 If you would've told me four years ago that I would be at a packed concert waiting for the singer who penned "Call Me Maybe" to hit the stage, I would have laughed in your face, eye-rolled, and moved on with my day. But there I was, shoulder to shoulder in Saint Andrews Hall excitedly waiting for Carly Rae Jepsen to take the stage.




The night started off with a set from Fairground Saints, an acoustic guitar trio from L.A. They have a great sound and their cover of Justin Bieber's "Love Yourself" was the highlight of their set.

They were a little too chill for the energy that was in the room waiting for Carly, but there was no doubting how beautiful their three-part harmony was.




Once Jepsen finally took the stage, the entire room lit up. It was filled with early 20's men and women, and of course 10-year-old girls and their parental chaperones who were just as excited, if not more, to see Carly Rae and her infectious pop music.




So how does Jepsen go from semi-annoying/catchy pop song to throwing a giant dance party at every show she puts on? Her latest release, last year's EMOTION, is critically acclaimed and pop music fans devoured it.

The album had mediocre sales, unfortunately, but Jepsen made it known that she is not only a serious pop singer, but also a serious songwriter and visionary. She knew she wanted to make an 80's-inspired pop dream album and she definitely did.




The show started off with infectious tracks like "Run Away With Me" (with a live saxophone solo, I might add) and the title track "Emotion." Things really turned up when Jepsen sang the song she wrote with megastar Sia called "Making Most of the Night."

In a pre-show meet and greet with fans, Jepsen described how she went from bartending in a venue similar to Saint Andrew's Hall and seeing Sia perform for the first time to writing a song with the pop goddess (who Jepsen described as 'lovely') all within five years.





The crowd stayed hungry for the entirety of the performance, and she did not disappoint. Jepsen played almost every song from EMOTION, and a couple from her earlier albums. It was sometimes hard to hear what Jepsen was saying to the crowd because everyone was screaming like insane people having such a great time. The energy in the room was like static, passing through each person but sans the scary shock thing.


It wasn't until Jepsen played her signature song "Call Me Maybe" that I understood how great she really is. I mean, she has performed on Broadway as Cinderella, starred as Frenchie in Grease Live, sang the theme song to the revamped Fuller House and wrote one of the catchiest songs of the last five years, but I guess I underestimated her.

If I learned one thing from seeing Jepsen it's that this girl can do no wrong. So yes, Carly Rae. We really, really, really, really, really, really like you, too.