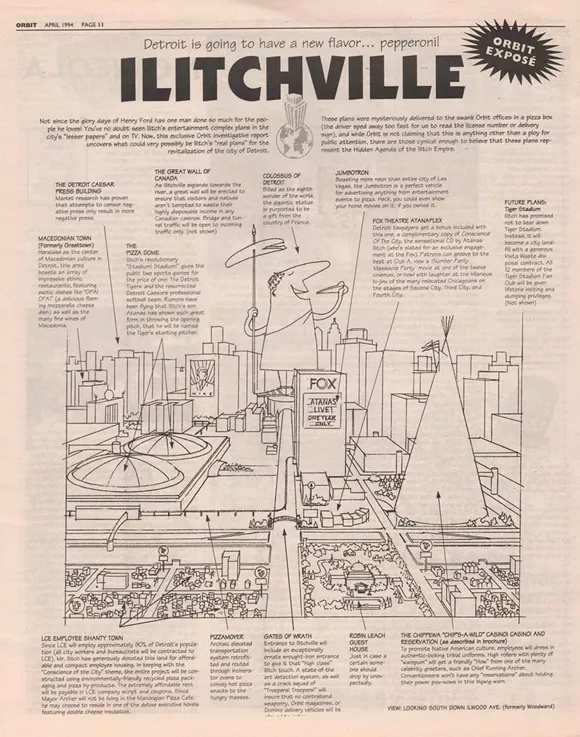 On Thursday, it was revealed that the official name for Little Caesars pizza mogul Mike Ilitch's new Red Wings Arena would be (drumroll, please) ... Little Caesars Arena — a final touch that pretty much cements the fact that this whole thing is
a giant taxpayer-subsidized commercial
for cheap pizza.
It turns out the staff of Detroit's defunct humor magazine
Orbit
saw this coming. In reference to Ilitch's initial proposal for a public-subsidized "Foxtown" district, an April 1994 "Orbit expose" outlines plans for "Ilitchville," a sprawling entertainment complex that is, in hindsight, almost too realistic to be funny.
The original 1994 story was posted to
The Orbit Magazine Anthology official Facebook page
after the Thursday announcement.
Orbit
writes:
Not since the glory days of Henry Ford has one man done so much for the people he loves! You've no doubt seen Ilitch's entertainment complex plans in the city's "lesser papers" and on TV. Now, this exclusive Orbit investigative report uncovers what could very possibly be Ilitch's "real plans" for the revitalization of the city of Detroit.

These plans were mysteriously delivered to the swank Orbit offices in a pizza box (the driver sped away too fast for us to read the license number or delivery sign), and while Orbit is not claiming that this is anything other than a ploy for public attention, there are those cynical enough to believe that these plans represent the Hidden Agenda of the Ilitch Empire.
The
Orbit
staff was close: Instead of a hockey arena, their Ilitchville features "The Pizza Dome," a sort of two-for-the-price-of-one deal that would house the Detroit Tigers and "the resurrected Detroit Caesars professional softball team." It also featured a towering "Colossus of Detroit" ("billed as the eighth wonder of the world") made in the image of Little Caesar's toga-wearing "Pizza! Pizza!" mascot. Again,
Orbit
was nearly spot-on: along with the official name announcement on Thursday, it was announced that the Red Wings logo featured on the roof in the arena's architectural renderings would be swapped out with what is certain to be the world's largest Little Caesars logo.
See the post below.