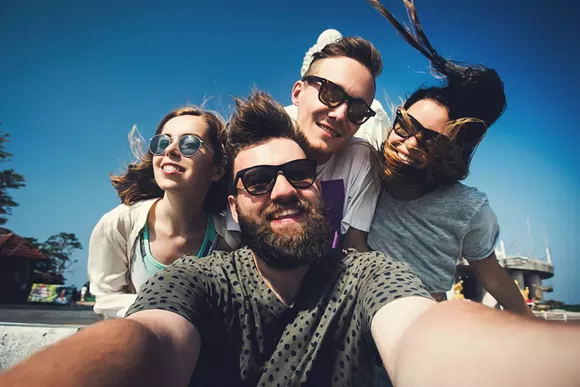 Be honest.
How many minutes did you spend searching for the right filter on your last Instagram post? And what did you post? A picture of that new book you're reading? "Caption: Completely caught up in this new Lena Dunham biography!"
Yes, we saw and clicked "like" on that photo. And we didn't ask the questions we were all thinking — like, "If you're so caught up in the book, then why did you set it down, get the right lighting, photograph it, search through twenty filters for the right one, think of a good caption, add some hashtags, geotag it, and post it for your 700 followers to double-tap?"
After all, these contradictions are what make Instagram so great.
Don't you love spending 10 minutes trying to find the ideal filter to convey the mood, posting the photo, and watching people click "like" over and over? Sure, you wasted a lot of time thinking of the caption or debating between the "Gingham" and "Vesper," and yes, people absolutely clicked "like" on it after staring at it for half a second, but that's not the point. The point is that Instagram is where we show off how reprehensibly perfect our lives are by faking it.
Instagram will have none of your sincere feelings
Faux-filtered photographs are inherently not ideal for sincerity (that nonsense is reserved for writing embarrassingly confessional late-night Facebook statuses, drunk-Tweeting, or — best place of all — your journal). Instagram is where we show friends and strangers how we want them to think we feel. We act out our fakest selves and curate the highlights, only posting the most exciting moments of our lives, our sexiest days, or bragging about the volunteer experience we did that day.
Sure, you could share all of these photos on Facebook. So why is Instagram more narcissistic? Because even if you post the most authentic, sincere, and confessional photograph on Instagram, you still had to put it through a fake filter, write a caption about how this is #realtalk, and then submit it to the world — so they could click on a tiny little heart. In other words, Instagram is hardly "instant."
Post something for one reason, pretend it's for another reason
Your significant other just dumped you. You're a wreck and you can't sleep at night. What do you do? Easy. Screenshot your Tinder app, throw it through the "Ashby" filter, and presto! You've Instagrammed to the whole world that you're single and loving it!
But we don't buy it. The fact that you posted a screenshot of Tinder and captioned it "#singlelife" lets us know that you cried yourself to sleep tonight. Really, you're hoping your ex will see it and think you're hotsy-totsy. But now your ex knows you're miserable. No filter will hide your true feelings and swollen red eyes. (Except maybe "Inkwell.")
And that weekly #mancrushmonday or #womancrushwednesday you're posting doesn't say, "I'm in love." It says, "This thing is falling apart and we're lying to ourselves." Why else would you have to reaffirm your affair in public every week? To amend a Shakespeare quote: the lady doth #mancrushmonday too much, methinks.

The futility of clicking "like"
Perhaps the most fun part of Instagram is boycotting people's posts. Rather than letting friends know you're upset with them, go a week without liking any of their pictures. It's a Cold War-style argument.
Not clicking "like" is also how we let significant others know they've become significant bothers. Sure, you sleep in the same bed, but you can still refuse to click like on your boyfriend's Instagrams. It's especially agitating for him because you've been clicking "like" on other guys' pictures of Selden Standard's desserts. Still, it all forces the question: if clicking "like" is so obligatory, then what's the point of clicking "like" on anything?
There is no point. We know it's specious. Still, getting a "like" notification is like diet cocaine through your smartphone. In fact, a report in
Psychology Today
(which is written by people whose drug of choice is Juicy Fruit®) claims that anticipating a notification from your smartphone releases dopamine (as drugs do), which causes us to seek more and more satiation from our smartphones until we overdose on Snapchat.
Making the "like" even more meaningless is the knowledge that a sad majority of the people who clicked did so to pass time while they used the toilet. Or they scrolled through Instagram to wake themselves up in the morning. Or they clicked "like" because they want to have sex. But they probably didn't actually look at your picture.
Still, we spend 30 minutes trying to decide if "X-Pro II" is gritty enough for how we feel; or, should we play it safe with "Valencia," which does a much better job of showing off our new ombré hairdo.
Again, Facebook and Twitter cannot compare to this kind of self-obsession. No one spends a sinful amount of time crafting the perfect tweet, but the moment we take a photo on Insta, that bad boy is shoved through twenty filter choices until we're confident it has to be "Nashville."
The perfect caption
A perfect caption might completely mask the true intentions of our photograph. With the right words, a "Brooklyn"-filtered pic showing off your derrière just looks like a photo showing off how you got, like, way into yoga. Throw in a "#yogi" and we'll forget how you picked the one yoga position that came straight out of the Kama Sutra.
And if you're at the gym, shirt off, standing in front of the mirror with your nipples so hard you could hurt someone — go on! — take a selfie and post it. With Don Draper-levels of manipulation, you can make it seem like you're showing off how sunburnt you got at the beach yesterday with #thesquad. Better yet, have the caption remind us how you only got buff from going gluten-free.
We'll all go along with the charade, even though we know better. "You've gotten so good at yoga 🍑," we'll say, or "Looking very muscular 🍆" — suggestive peach or eggplant emoji punctuation added for thinly veiled sexual tension.

So you think you can be earnest?
Make no mistake: there are moments of real and pitiable sincerity on Instagram. And we are right, I think, to be proud that we exercise or be confident in how we look on a given day. It's beautiful to volunteer in the community or post a photo that shows vulnerability. And we truly are #grateful for that precious memory we posted on a #ThrowbackThursday, I think. To assume that everything we share with others en masse has to be conceited is unhealthily cynical.
And yet, how else can we see things? It would be sincere to show our lives off on Instagram — if it weren't so artificial. What moment could possibly be bona fide once you throw a fake filter on it and show it to 500 people who click on a heart that could mean anything from "I saw this" to "I want to sleep with you?"
I'm not sure, but I should probably go make an Instagram video about it.
---
For more pointlessly obsessive observations from a person who spent too much money on his English degree, follow Martin Michalek on Instagram: @macaronipeacock.