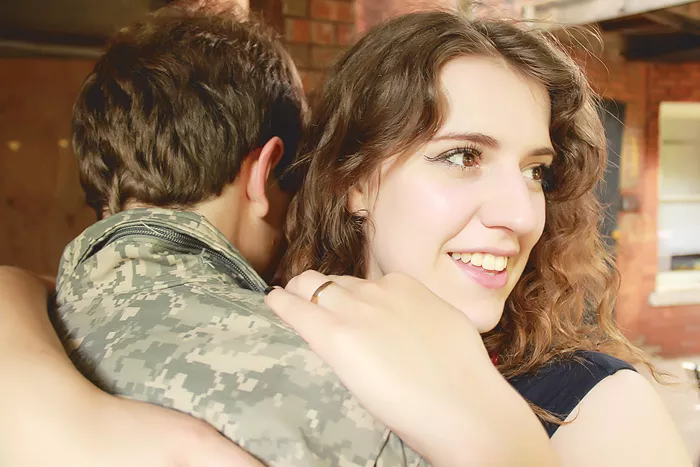 Playwright Bekah Brunstetter's Oohrah! first premiered off-Broadway in 2009, but it could conceivably take place at any point during the past 11 years as the U.S.-Iraq military involvement marches on. Everyone at some point has known someone who was serving overseas — especially the middle class, where a military stint was not just about protecting our freedom and all that jazz but for a lot of Americans the best — or only — career option available.
For the most part, Oohrah! stays out of political commentary, a dramatic comedy more concerned with what happens at home than over there. Performed by a new student-formed independent company called Underground Theater, Oohrah! is set outside an Army base in in Fayetteville, North Carolina (Brunstetter's home state), where Ron (Logan Hart) has finally returned from his tour of duty in Iraq. His wife, Sara (Amelia Gillis), is eager to leave what she increasingly perceives as her white-trash life behind and forge a new identity as a suburban super-mom.
Domestic perfection, though, seems impossibly out of reach. At home, Ron's best postwar prospects are Krispy Kreme manager. Daughter Lacey (Alexis Barerra) is a tomboy more interested in guns than boys, much to the delight of Ron and the chagrin of Sara. Meanwhile, Sara's flight attendant sister Abby (Katie Foster) is crashing on their couch as she falls out of love with her civilian fiancé, Chris (Adham Aljahmi), who is totally in love with her. Abby romanticizes Sara and Ron's relationship and dreams of snagging a military hunk of her own — and when she spots a Marine (Chris Peterson) inexplicably heading to Fayetteville's Army base on one of her flights, she does just that.
The play's set design is minimal, yet effective. There are no real set changes to speak of — some indefinable wooden props reminiscent of suburban porches serve as tables, a bed, or a gun range as necessary. One particularly inventive scene sees the actors interpret airplane turbulence by lifting up their metal folding chairs and shuffling around the stage before placing the chairs back on the ground with a synchronized crash. It was a strange sort of choreography, but it worked.
Each scene ends with a dimming of the lights and a recurring militaristic drumbeat as the characters all scatter off in their different directions, sometimes walking (or even running) into the audience, a motif that was particularly effective. The actors seemed to remain in character even while exiting the stage, offering slight additional glimpses into their emotions. A one-night stand takes place during the play's intermission, with both actors remaining in bed as the audience gets up to stretch. By the time the intermission ends, one of characters slinks off before morning breaks.
Forgoing realistic scenery keeps the focus on the acting, but it does have some amusing side effects. When a bag of tinsel is opened early in the play as Sara stresses about throwing Lacey the perfect birthday party, tinsels got everywhere and got tracked by the actors into other scenes and other contexts. At one point, during an emotional scene involving Ron and a gun, a piece of tinsel was seen dangling from the gun, serving as an unintentional visual metaphor of just how grave something as mundane as hosting a party can feel.
Which is really what Oohrah! is all about. For the most part, the play is funny without being slapstick, but the majority of the drama comes not from the military plotline as much as it comes from the struggle of adulthood, about the ways that people twist themselves into a pretzel to try to be normal. One of the most emotional scenes seems downright ridiculous in hindsight, when someone spills a bowl of chip dip on the floor that Sara has been obsessing over for Lacey's party. After a moment of darkness, Sara just scoops it up and offers it to her guests. We've all been there.
Oohrah! has two more performances scheduled on Wednesday, July 30 and Thursday, July 31 at 8 p.m. at the Studio Theatre; 4743 Cass Ave., Detroit; theatre.wayne.edu; 313-577-3508. $10-$12.