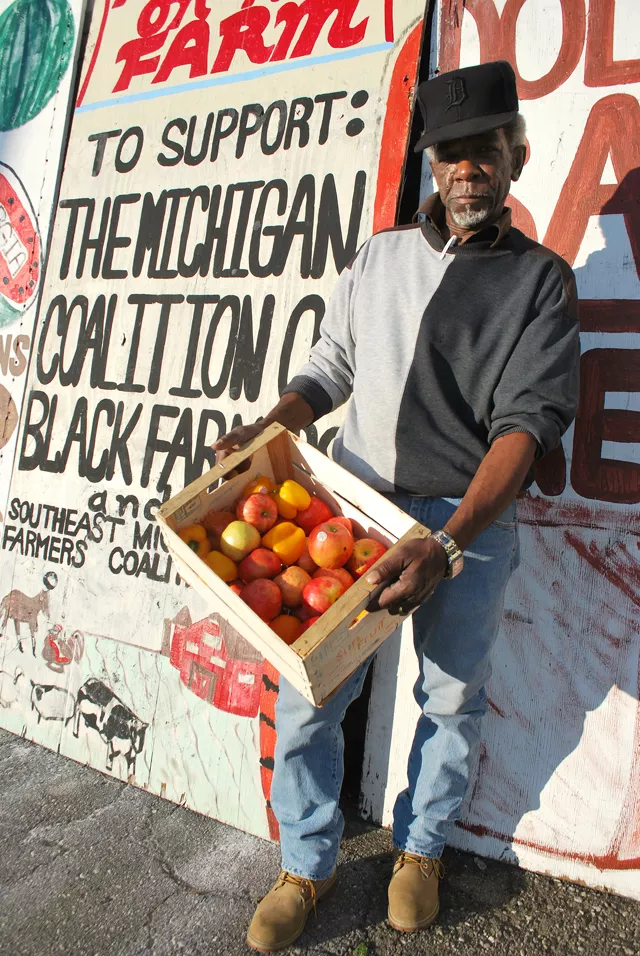 Luther Fowler sits in a foldout chair and watches the neighborhood pass before him.
He's seated inside the open bay door of a warehouse on the corner of Conner and Canfield, where he has a cobbled together fruit market and a full view of east-side life. His perch has given him an assessment of the mood out here.
"The spirit is low," the 59-year-old says of this area. "All the life seems to be leaving. There's just a sense of disappointment, not really giving a fuck, wanting to get the heck on out of here, leave Detroit and just go. Get up and just go."
This area isn't downtown, or midtown, or the riverfront, where there are exciting projects, new residents, signs of hope for the future. This is an old east side neighborhood, a remote place where a Church's Chicken or a dollar store is talked about as a major development, where more people travel by bus than by car, and where the old housing isn't being restored but instead just crumbles slowly.
He points to some teenagers meandering by. "I see it walking — pants down, look like they're forgotten children. They don't really have no upbeat tempo about them. They're like they just give up."
Fowler's fruit store takes up a small section of a big warehouse that once was Steve's Produce Plus — "The People's Market" as a painted sign declares. Some still call it Steve's. Some call it "Obama Fruit" because of the now-fading portraits of a then-obscure presidential candidate that a wandering painter put on the walls there years ago, next to the scrawls announcing this store's affiliation with the Michigan Coalition of Black Farmers.
But most simply call it "Luther's" because of the man who sits here almost every day, at unpredictable hours, looking out from the warehouse shade, selling fruit one apple or banana at a time.
A new Save-A-Lot supermarket opened down the street not long ago. It's got a huge selection of produce. Yet Fowler still draws customers because his offerings cost just a little less, but also — maybe even especially — because there's something idealistic about a man who opens up a little fruit market right by a national grocery chain he can't possibly compete with. That's the point, he says.
"This corner could do a lot for this neighborhood, it really could," he says of his store. "A little hope would brighten it up. I'd like the neighborhood to come on in here and stop and let them know we as a people can do something."
Fowler used to be among those who shopped at the warehouse. He lives nearby, about a mile's walk away, and, like everyone else, he'd swing by sometimes for a single potato or a couple apples. Supermarkets have come and gone out here, but Steve's Produce was always a part of the community. Its commitment created loyalty.
Then the owner got ill, gradually reduced the amount of selling space to a small section on the warehouse's east end, and finally gave that up too. When Fowler heard it was closing, he saw an opportunity and asked if he could take over.
"He said, 'You wanna give it a try? Go ahead,'" Fowler says. "He wasn't going to give me the money to do it, so I had a couple hundred dollars, a couple of friends loaned me a couple hundred — I still haven't paid it back — I took it all and did this." He gestures toward the handful of half-filled boxes of fruit, the bottles of water lined up on a shelf, the potatoes in bags and the wrapped peppermint candies selling for a dime each.
Fowler moved here 30 years ago from Huntsville, Ala., a place whose inflections still color his words. His mother left his father, and he followed her north to Detroit. For years he was an auto mechanic, fixing transmissions before he got older and that work dried up. He didn't have much to fill his time after his mother died last year; the idea of opening his own grass-roots market came to him a few months later.
"I ain't got nothing to do," he admits. "I don't really have a hobby, I really don't. I used to like to work on cars, but I don't have any car now, so I don't do that anymore. I don't have any transportation. I stay home, I shampoo the carpet. Like tomorrow, I'll probably get up about 5:30, 6, shampoo the carpet."
Then came his idea. He took what little money he had, bought a few boxes of fruit, opened his own market and found a new role for himself — as a determined sign of enduring life in a slowly dying neighborhood.
Not everyone shared his hopeful outlook. For a while Fowler's spot served more as a perch for neighborhood vagrants and the wandering homeless than the regular customers he'd envisioned attracting. The Capuchin Soup Kitchen sits next door, drawing clients who'd congregate on his lot while they waited for meals to be served. It took time to win their respect.
"They used to come over here and drink and throw their bottles up in here, but after I started cutting the grass and telling them what I was doing over here, I didn't have any more trouble. I just went out and talked to them. I asked them about the neighborhood — Don't they care anything about it? 'I'm trying to run a business here. What's wrong with you?'"
Soon they stopped leaving the empty bottles on his lot and went from loitering to just passing through, and in that small victory Fowler thinks he's done something to make this corner just a little better.
But he still faces challenges, such as how many of his customers can pay only with a Bridge Card, which he's unable to process, or that the soup kitchen next door gives out free food to many of his potential customers, or that he can't expand his stock by much because he doesn't own a vehicle and relies on the randomly timed goodwill of others who drive him to Eastern Market for his supplies. Their cars can hold only so much food.
"I thought I may be able to get a van or something, but everywhere I go I can't get it 'cause my credit is not all that good, so I figure that maybe, the good Lord willing, somebody might come along and say, 'Look here, we got a van sitting up there somewhere. Put a tire on it, wash it up, go ahead let's see what you can do.'"
That hasn't happened, so for now the market stays small, almost like a country roadside fruit stand in its simplicity. It's $1 for six oranges, or four bananas, and 15 cents per apple. A pumpkin costs $3. And he's got bags of rice and sometimes a pineapple or kiwi fruit too — all just as cheap.
Prices like these don't bring him much reward other than some respect, hellos from now-familiar neighbors, and a sense of purpose he couldn't get when he was toiling underneath cars in a garage.
"I wouldn't mind having enough money to pay my rent and light and gas bills," he says. "But I would like to really be an asset to the neighborhood. I like that better than making money."
"Hey, Luther!" yells a woman, who stops over to say hi. Moments later, a man on a bike does the same. Down the street, the lights of the supermarket shine brightly even in the daytime, while inside the warehouse door, Fowler sits alone as one neighbor after another stops by to wish him well.