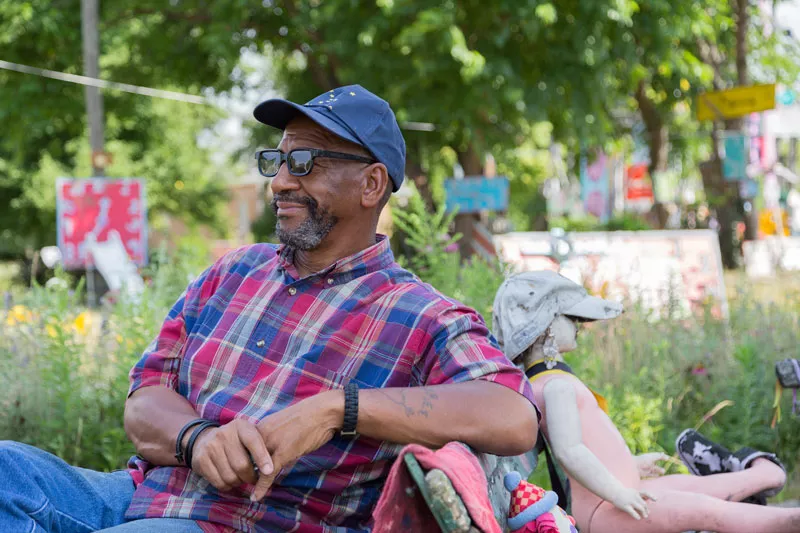 Tyree Guyton — the mind behind Detroit's love-it-or-hate-it Heidelberg Project — was given the profile treatment in a lengthy
New York Times Magazine
profile. The story was
posted online
on Thursday and will appear in print in this Sunday's weekend edition.
The story centers on Guyton's MOCAD show from last September, and covers much of the same ground we did
when we profiled him at the time
: Guyton's sprawling found-object outdoor art project, why the college-educated Guyton is no outsider artist, that old art vs. eyesore debate, and "Heidelberg 3.0" — or the next phase of the project, which has seen Guyton begin to dismantle the work he spent the past 30-plus years of his life making.
"After years of fighting off destruction from vandals, from elected officials, from arsonists and police, Guyton must now effectively destroy his work in order to save it," author M.H. Miller, who is originally from metro Detroit, writes in his first story for the magazine.
We now know that Guyton is trying to work with the Detroit Land Bank to acquire parcels of empty lots in the Heidelberg Project's McDougall-Hunt neighborhood. The plan, Guyton tells the magazine, is to transform the remaining buildings into arts centers, which would establish a hub for housing and studios for a community of artists. "They hope that McDougall-Hunt will be supported by the arts in the same way it was once supported by the auto industry," Miller writes.
"The main reason why I saw the need to do something is because I was kind of tired of waiting on government," Guyton told us about the project when we spoke to him last year. "But those days are over now. I've proven my point. The city has also proven their point. All I'm saying is, what can we do together? I have a new way of looking at government, and hopefully they have a new way of looking at the Heidelberg Project. We've been around for a long time, and we have proven so many points. It's a magnet and it brings people there to the city, and it brings people to the neighborhood. If it wasn't there, they wouldn't come."
Stay on top of Detroit news and views. Sign up for our weekly issue newsletter delivered each Wednesday.