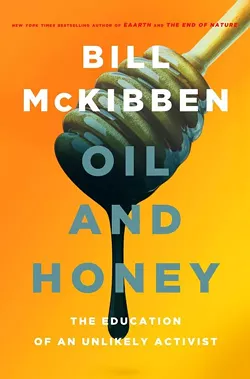 This intriguing story — at its heart, a battle against Big Oil— starts in a bee colony. Oil and Honey is not a gloom-and-doom haranguing of our carbon-addicted culture or a liberal's citing of "green" propaganda; it is merely a frank account of the End Of Nature author's last three years, spent gaining education on some scary environmental concerns. (Among those concerns, carbon in our atmosphere passing 350 parts per million, because, after that, scientists argue, we're toast!).
With an engaging narrative voice, McKibben segues smoothly from lightly anecdotal to a layman's layout of scientific minutia. The author recounts how he and fellow Vermonter, Kirk Webster— a resolute-yet-frustrated veteran beekeeper — sweated through the hottest year on record (2010), spurring them to action.
Webster sets out to start a chemical-free apiary, cultivating sustainable beekeeping practices. Meanwhile, McKibben calls for "divesting" from industrialized, fossil-fuel production with his crusade against the Keystone XL pipeline, a proposed transporter of oil from the tar sands and oil-rich shale of Calgary, Alberta down to the Gulf of Mexico.
Arctic ice sheets deplete the heat and the seas warm and rise, leading to extreme weather events like Hurricane Sandy, which crashed into Long Island Sound and the New Jersey shore; McKibben effectively documents how things can only get worse.
Simultaneously a playbook of modern nonviolent resistance and a charismatic underdog story to save the world, it reminds us we're all connected: a fragile planet of politicians, polluters, protesters and pollinators.