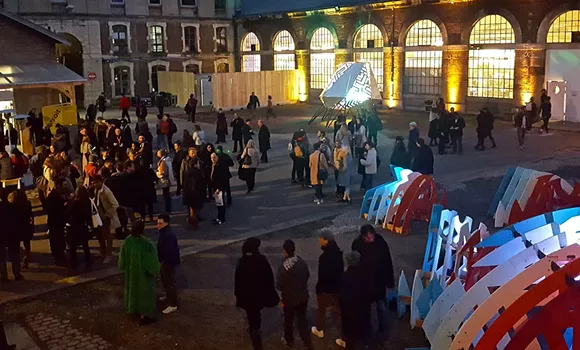 As a kind of sister city based on our shared heritage of an industrial manufacturing boom followed by economic decline, the city of Saint-Étienne, France, extended the invitation to Detroit to be a featured presenter in this year's Biennale Internationale Design Saint-Étienne. Saint-Étienne is one of 22 international locations recognized as an UNESCO City of Design — a designation that Detroit received in 2015, making it the first City of Design in the United States.
For places like Saint-Étienne and Detroit, examining the future of work is crucial to the rebuilding of the city, and being a City of Design indicates a hope that the practice of design will be integral to the authorship of a new chapter for these cities. On this international stage, Detroit represented the United States among contributions from dozens of countries with three major exhibitions: Out of Site, ShiftSpace, and Footwork — as well as with a host of panel discussions, musical performances, and other programming.
Out of Site featured three examples of working installations by Detroit-based design duo Akoaki. Known individually as Anya Sirota and Jean-Louis Farges, Akoaki are the low-profile designers behind high-visibility design interventions in the Oakland Avenue-North End neighborhood, such as the Mothership — an Afrofuturistic urban marker and piece of "ancestral technology" that serves as a DJ booth or stage set for performances by members of the Detroit Afrikan Music Institution, or DAMI. DAMI was co-founded by Farges and Bryce Detroit, who was also in attendance — one among a contingent of some 70 Detroiters that accompanied the exhibition for opening week activities in France, including creative and design professionals, urban farmers, curators, aspiring political candidates, and others (including this writer).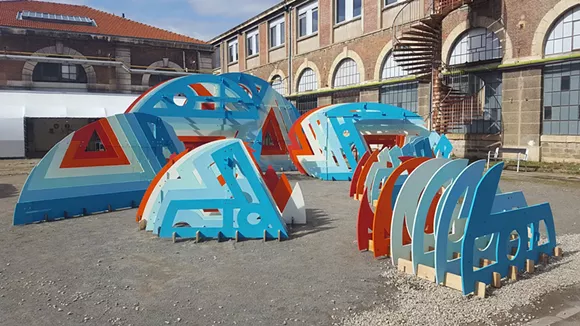 "We're not making things valuable simply by attracting developers," Sirota says during a panel discussion in the opening week's program. "We're finding ways to leverage existing structures, to use design to broadcast existing frequencies."
This approach holds both some shared values, as well as some that are radically different from the agenda of city governments, which tend to focus on attracting new populations and creating economic growth as the key markers of success. Detroit's planning director, Maurice Cox, who is a trained architect, was on hand for opening ceremonies and participated in several workshops, as well as making a presentation about Detroit's potential and challenges in address the city's some 90,000-plus surplus of city-owned vacant land (a land mass equivalent to the island of Manhattan).
"For about 50 years, the city has been managing the decline of its population," Cox said during his presentation. "Now, for the first in recent history, there is interest in deciding what it means to grow, and grow inclusively."
Naturally, for those on the ground in Detroit, this is a topic for debate. "Detroit does not have a vacant land problem," said Bryce Detroit, during a panel discussion. "Detroit has a displacing people problem." He praised Akoaki's ability to work with the rich history of an existing neighborhood and its occupants in creating objects that "project identity from a community that has only ever been fed corporate messages about who they are and what they are worth."
Just adjacent to the Out of Site courtyard sits the ShiftSpace Café. Like its creator — Cezanne Charles of Creative Many Michigan — it is an outwardly unassuming presence that packs powerful intention into an approachable space. Charles does the work of capacity-building, helping creative individuals find their legs in a sea of larger institutions and complicated professional infrastructure. Usually one to work behind the scenes, Charles gave a number of presentations during the workshop days that made it clear how passionate she is about growing creative practices in Detroit in a way that supports practitioners and benefits the city. But she still seems most comfortable in the role of facilitator, presiding proudly over her working cafe space that, in addition to being the site of numerous roundtable conversations with thought leaders from Detroit and Saint-Étienne, also created 17 jobs for the course of the festival.
The final offering from Detroit is Footwork, a group show about collaborative design efforts, curated by a collective of creative professionals known as Public Design Trust — a subsidiary of the women-led social innovation design firm, the Work Department. Public Design Trust drew dozens of individual artists and makers into collaborative partnerships (including some with local corporations, such as Carhartt, Faygo, and Lear Corp.) to showcase the reality of innovative working practices on the ground in Detroit. The exhibition site is packed with a multisensory array of offerings, from sound projects by Sterling Toles, Assemble Sound, and Underground Resistance, to art objects by fiber artist Carole Harris and interdisciplinary artist Tiff Massey, to corporate bikes by Faygo in partnership with Detroit Bikes the homegrown efforts of the East Side Riders, led by "King Wayne" Neeley.
All this forms just one sector of an international program that draws together thought leaders, students, designers, and city planners from around the world for intensive thinking, conversation, and networking on the subject of design for the society of the future. Labor and its future iterations is, of course, a huge concern for everyone who sees technology as a mixed blessing, which often offers innovation and efficiency at a human cost.
But as the 2017 Biennale Internationale Design Saint-Étienne proves, design does not mean just one thing, and it is equally possible to design an inclusive future. As a vanguard for both societal triumph and catastrophe, here's hoping that Detroit is preparing to become a City of Design that's designed for everyone.
The 2017 Biennale Internationale Design Saint-Étienne continues through April 9 at the Cité du Design in Saint-Étienne, France. The author traveled by invitation and travel expenses were covered through a grant written by Creative Many Michigan.