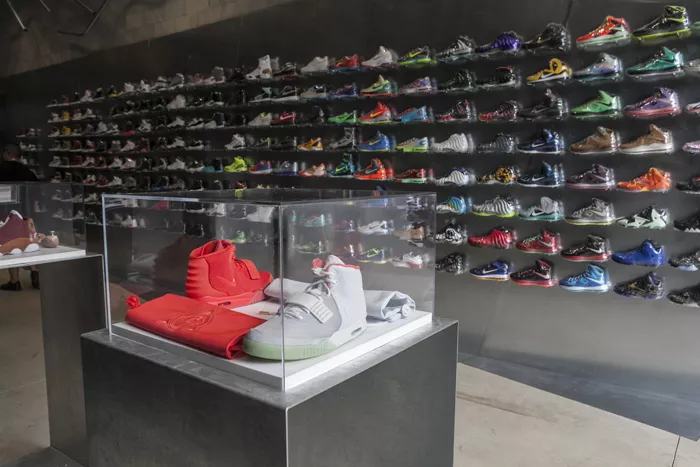 Nojo Kicks | 1220 Library St., Detroit | 313-656-4402; nojokicks.com
Open 10 a.m.-8 p.m. Monday-Saturday, 11 a.m.-5 p.m. Sunday
When Nojo Kicks held its soft opening on June 23, the line stretched down Library Street. Crowds clambered to get into the chic, futuristic shoe store to buy the sold-out sneakers at discount prices. Nojo Kicks promised to be unlike anything else Detroit or the world had to offer and, on its first day open, it delivered.
The folks at Nojo stock premium shoes, hats, and clothing, calling Nojo the "most exclusive high-end sneaker boutique." Their wares include such brands as Jordan, Nike, Reebok, Ewing, Adidas, and Timberland. Some shoes cost upward of $9,000. They stock rare, collectible, and hard-to-find items. Essentially, this place is a sneakerhead's dream come true.
Bright and colorful, the shoes line a wall inside the shop, offering a rainbow of style and hue for those who enter. On the opposite wall hang countless hats less varied in color than their counterparts, but still classy, snazzy, and bright. Most cost around $150, a few are available for $115, and an even smaller selection ring in at $85.
T-shirts are part of the stock here as well, and Nojo promises they're of the utmost quality as well. Tailored, quality jeans are also carried here.
A shiny new store offering high-end, collectible goods, Nojo Kicks might have a hard time finding a sustainable clientele in the city, but surely shoe lovers from far and wide will find this boutique worth a drive.