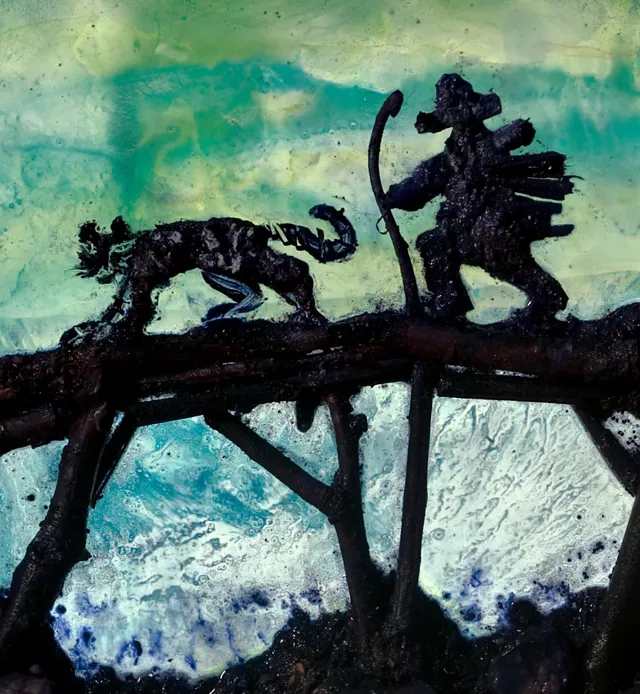 Nine Nation Animation
GRADE: B
It's like the United Nations of animation, but instead of promoting world unity through peace, this 80-minute anthology of animated shorts from nine different countries (curated by Brooklyn Academy of Music's "The World According to Shorts" program) explores the inevitable constrictions and complications of mass culture. As with most mixtape approaches to film, your mileage will vary. What's really on display are the wide array of styles and techniques available to animators, proving that not everything needs to look like Pixar. Stop action, rotoscoping, hand-painted images and CGI are all put through their paces, and the visual mastery of each vignette is impressive. What's often lacking is a compelling concept or narrative.
Ironically enough, it's the film with the least visual flair that makes the biggest impression. Jonas Geirnaert's Flatlife (Belgium) is a delightful triple entendre-titled flick about a quartet of apartment (flat) dwellers who discover that each and every action has an equal and frequently annoying reaction. It took home the jury award from Cannes, and deservingly so. It's the highlight of the program.
The other eight shorts in the omnibus are hit-or-miss, but mostly interesting. Here's the break down:
Norway's Deconstruction Workers is a humorous throwaway that plays like a philosophical comedy routine. Two construction workers discuss their views on life as the world crumbles around them. It's funny in a deadpan, absurdist way, but the gag goes on too long and lacks an effective punch line.
Turkey delivers the stop-motion Average 40 Matches, a slight but amusing anti-smoking short about matches giving in to their deadly craving for cigarettes. Equally forgettable is the Croatian She Who Measures, an obvious parable that pounds out its anti-consumerist message with all the subtlety of a sledgehammer. The Bosch- and Mardi Gras-style animation is cool but can't sustain what is essentially a 7-minute cinematic rant. The Tale of How, from South Africa, is an odd mix of Burton-esque illustrations and Gilbert & Sullivan-style music charting the downfall of the Dodo bird that doesn't quite gel. Its narration is chaotic and hard to follow, but, as with many of the films, the visuals are arresting.
From Britain comes Home Road Movies, a collage-based memoir by Robert Bradbrook that recalls with dry wit and surprising poignancy a family car vacation. Bradbrook's attention to detail and engaging narrative approach sneaks up on you, delivering an affecting personal experience. Strangely, the same can said to be true of Ireland and Germany's surreal examination of dysfunctional relationships in Please Say Something. With stylized computer animation that looks like the early code-sketches for video game animation, we're thrust into a bleak future where a long-suffering cat and abusive mouse navigate both emotional and digital landscapes. It's an eerie, engrossing and, ultimately, moving experience that stands out from the rest of the anthology.
The most impressive animation is found in France's Bamiyan, a lushly hand-painted film that tells the legend of Xuanzang, a Chinese monk who discovered Buddhist statues in Afghanistan (recently destroyed by the Taliban) back in the 7th century. The tale is interesting, if a bit too long, but its dazzling images are enough to wow even the most casual animation fan. Unfortunately, filmmaker Patrick Pleutin uses children to narrate the adventure and their voices grow irritating over the course of the film.
Sweden delivers the second best film of the series, animating the audio interviews of four real-life people who recount the first time they ever had sex. Each account in Never Like the First Time! is given its own animated style, allowing the filmmakers to compare and contrast male and female views through terrifically clever visual schemes. Funny, frightening, bittersweet and sad, each interview (young and old) is an effective snapshot of personal memory, emotion and sensation.
Showing at the Detroit Film Theatre (inside the DIA, 5200 Woodward Ave., Detroit; 313-833-3237), at 7 and 9:30 p.m. on Saturday, Nov. 6, and at 6 p.m. on Sunday, Nov. 7. It also screens at 9:30 p.m. on Friday, Nov. 12 and at 4 p.m. on Sunday, Nov. 14.