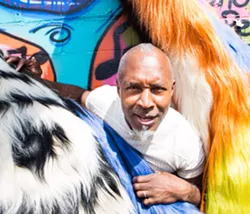 This past summer we brought you extensive coverage on artist
Nick Cave's
Cranbrook Art Museum exhibit entitled
Here Hear.


The
installation was quite a sensation
, to say the least. In fact, it's being hailed as the second best art exhibit in the country in 2015.
Online arts magazine
Hyperallergic
named the exhibit number two on a list of the 10 best art exhibits in the country in 2015. It was beat out by
International Pop
at the Walker Art Center in Minneapolis for the number one spot.
The mag had this to say about Cave's colorful exhibit and the seven months of activities that ensued at Cranbrook
It wasn't just the dazzling retrospective array of Nick Cave's Soundsuits and other works, nor the newly commissioned pieces on display under the curation of Laura Mott, that made this exhibition so outstanding — it was the consistent engagement with Detroiters of all stripes in the creation of original dance pieces, photo and video shoots, and public celebrations that transcended traditional divisions between the city proper and its more affluent and whiter suburbs. The connections fostered by Here Hear will not soon be forgotten. The events, much like the Soundsuits themselves, carried profound social critique beneath their appealing and colorful exteriors. An awing spectacle with a resounding message.