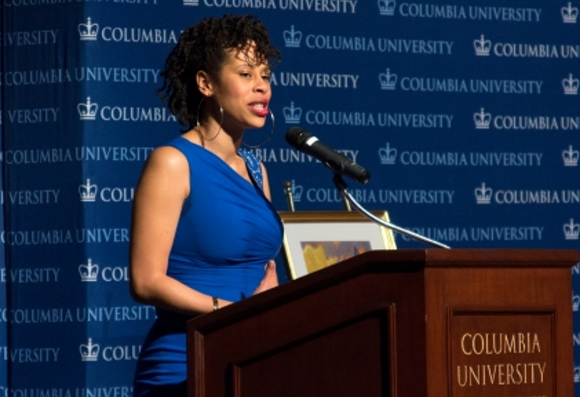 These days, it's not too hard for a playwright, even a relatively celebrated one, to fly under most people's radar. How else to explain the dearth of coverage received by Detroit's own Dominique Morisseau, playwright of
Detroit '67
,
Paradise Blue
,
Sunset Baby
,
Follow Me To Nellie's
,
Blood at the Root
, and her newest play,
Skeleton Crew
? Like, she doesn't even have a Wikipedia page!
Taking a few steps from playwright August Wilson, Morisseau has created a trilogy of Detroit plays. The first,
Detroit '67
won the Kennedy Prize two years ago. The second,
Paradise Blue
, chronicles Detroit's jazz milieu in the late 1940s. The last is
Skeleton Crew
; Morisseau
was in town in October
for a reading of that play, which centers on the vulnerability felt by the workers at one of the last small factories in Detroit. That play is now on stage at Atlantic Stage 2 in New York, and garnered
a good, long review in the New York Times yesterday
.
Into live theater and want to see how Detroit's hard times get spun into a critically celebrated theatrical work? Check out the review and see if you don't at least crack a smile of hometown pride.