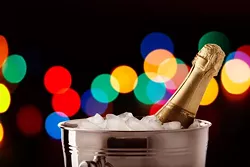 Find up-to-the-minute New Year's party information at calendar.metrotimes.com.

NYE at Chromatics Lounge. MotorCity Casino Hotel - Chromatics Lounge, 2901 Grand River Ave, (866) 782-9622. motorcitycasino.com/entertainment.html
Wicked Detroit Opera House, 1526 Broadway, (313) 872-1000
NYE at Radio Bar Featuring performances by Linda Lexy and Lutalo. MotorCity Casino Hotel, 2901 Grand River Ave., 313-963-3500. $15 before 11 p.m., $20 after. (9 p.m.-4 a.m.)
New Edition. Six original members of the influential R&B group ring in 2012. 10 Fox Theatre, 2211 Woodward Ave., Detroit. $49-$150
Liquor Store New Year's Eve 2012. Party favors, Champagne toast, DJ, dancing. Liquor Store, 44325 12 Mile Rd., Novi, (248) 380-3101. $10 at neptix.com;
NYE 2012 with Kenneth Thomas. With Dabura and Shawn Michaels. Bleu Detroit, 1540 Woodward Ave., Birmingham, (313) 974-7799.
50 Amp Fuse. Includes Champagne and party favors. Uptown Grille, 261 3100 E. West Maple, Commerce Township, (248) 960-3344.
A Jazzy Christmas Plowshares Theatre Company presents a hot, new cabaret revue featuring some of the coolest holiday songs done in the jazziest way. New Year's Eve packages include dinner, dancing and dessert. Virgil H. Carr Cultural Arts Center, 311 E. Grand River, Detroit, (313) 965-8430. $75-$150.
Funky Kingston 2nd Annual New Years Eve Bash. DJs Brian Tomsic and Maxx Makau shake up Ann Arbor's hottest underground dance floor till 4 a.m. with soulful vintage Jamaican sounds. Elks Lodge, 220 Sunset, Ann Arbor, (734) 761-7172
Lick It Up! New Year's Eve Bang. Boogie off your pizza gut with special guest DJs Mogi Grumbles and Charles Trees. Includes a pre-midnight pizza eating contest. Chow down! The Blind Pig, 208 S. First St., Ann Arbor, (734) 996-8555. $15
New Year's Eve at the Gem & Century Theatres. Enjoy a gourmet dinner, a performance of either The All Night Strut Holiday Show or Sister's Christmas Catechism, and a festive New Year's celebration complete with a live band, dancing, balloon drop, Champagne toast and more. Gem Theatre, 333 Madison Ave., Detroit, (313) 963-9800. $110
New Year's Eve Party with In2theblu. Includes buffet dinner, party favors and Champagne toast. Rusty Nail, 35703 Groesbeck Hwy., Clinton Township, (586) 790-4311. $10
New Year's Eve with Superlast. With Crashing Cairo and the Dregs. Complete with complimentary snacks and a Champagne or PBR toast at midnight. Small's, 10339 Conant, Hamtramck, (313) 873-1117. $10
New Year's Eve Retox. Featuring 60 Second Crush, Soot, Mound Road Engine, Motown Rage, A.S.S. and more. Champagne or Jager toast, pizza and balloon drop at midnight. The Ritz, 24300 Hoover, Warren, (586) 756-6140.
Boogie Fever New Year's Eve Party. Complimentary party favors, pizza buffet and Champagne toast. Tickets available in advance. Boogie Fever, 22901 Woodward Ave., Ferndale, (248) 541-1600. $25
New Year's Eve with Flywheel. No cover, drink specials all night and a Champagne toast at midnight. The Detroit Pub, 1326 Brush, Detroit, (313) 963-3500.
Bookies New Year's Eve 2012 Three open bar party packages. See Bookiesbar.com for tickets and details. Bookies Bar & Grille, 2208 Cass Ave., Detroit, (313) 962-0319. $50, $75, $100.
Zazios New Year's Eve. Featuring a special Chef Table deluxe five-course dinner with bubbly pairings at 6 and 9 p.m. Regular menu with several New Year's Eve specials will also be available. Reverse happy hour begins at 9 p.m., with complimentary appetizers and a Champagne toast at 11. Zazios Birmingham, 34977 Woodward Ave., Birmingham, (248) 530-6400. $90
Detroit Red Wings vs. St. Louis Blues. The Wings spending New Year's Eve on ice is a tradition in Detroit; fans can get equally chilled at the Joe's CC Olympia Club's New Year's Eve bash. Call for details. Joe Louis Arena, 600 Civic Center Dr., Detroit,(313) 983-6606.
A New Year's to Remember. Ring in 2012 with the masters of fondue with a five-course prix fixe menu. Includes a split of Champagne and keepsake stemware. The Melting Pot, 26425 Novi Rd., Troy, (248) 347-6358. $130 / Couple $70 / Single
Crash Dolls CD Release Party NYE Bash. With 7th Day Creeps, Greenlight Graffiti, Volume Dog and more. Open till 4 a.m. Champagne toast, balloon drop and continental breakfast at midnight. New York New York, 33151 23 Mile Rd.., Chesterfield Township, (586) 725-3914. $5-8
The Oakland New Year's Eve Gala. Celebrate 2012 Prohibition-style at this classic cocktail join's swanky soiree. The fete features light hors d'oeuvres and pastries, complimentary glass of punch, reduced prices on 'request only' cocktails, parting gifts for the first 50 guests, a big band playlist and more. Nostalgic apparel encouraged. Reservations required. The Oakland Art Novelty Company, 201 9 Mile Rd., Ferndale, (248) 291-5295. $35
Hollywood in the City.Walk the red carpet at this Hollywood-themed New Year's bash. Includes Champagne toast at midnight, DJs Captn20 and Prevu, "celebrity appearances" and special guest performances. VIP packages available. MGM Grand - V, 1777 Third St., Detroit, (877) 888-2121. $50 at neptix.com
2012 NYE Celebration featuring Digital Underground. Sushi and ala carte menu available, Champagne toast at midnight and more. VIP packages available. MGM Grand - Ignite Sushi Bar & Lounge, 1777 Third St., Detroit, (877) 888-2121. $50 at neptix.com
Northville Nite Family New Year's Eve Party.Carnival games, music, food, crafts are only a few of the activities on this fun-filled family night. Northville Recreation Center at Hillside, 700 W. Baseline Rd., Northville, (248) 349-0203. Free
Check back for more party options. Got a shindig you want listed? Send the details to [email protected].