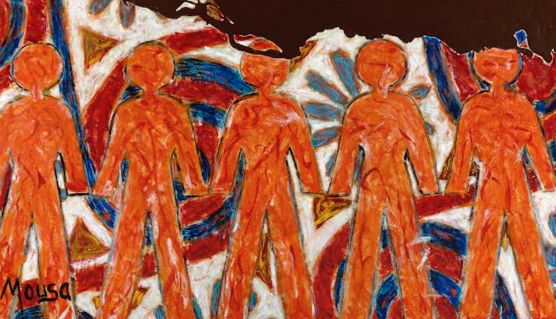 A new art show planned for the Arab American National Museum has a surprising issue at the center of it: LGBTQ+ rights here in the United States.
You don't often hear about that civil rights fight in the contest of Arab peoples (although
we've covered those issues together once before
) so it's especially interesting to see the museum offer not just a show but a community-wide dialogue associated with it.
At the center of it all is artist Nabil Mousa. Born in Syria but raised in a conservative Christian household in the United States, Mousa has an interesting vantage point to comment on politics and religion. His willingness to use art as a way to comment on the religious and political has met with some controversy, such as
a work of his that was banned
from a public building at Grand Rapids' ArtPrize two years ago.
But the new show of his art, called
American Landscape
, which opens this weekend, is filled with the color orange, which Mousa uses to symbolize fear. ("Orange alert," anyone?) Same-sex characters link arms in fellowship against backdrops that suggest everything from nonfigurative Muslim art to the iconic American flag. The show's organizers says, Mousa's mixed-media series "challenges the perception of what it means to be American, and highlights the inherent diversity in our nation."
But those perceptions will also be challenged by visitors to a special event on Saturday, Dec. 2. The event, called "Hikayat: Personal Narratives of Sexuality, Identity & Gender," will welcome visitors into a storytelling workshop where they can build their own narratives focusing on topics of sexuality, gender, orientation, and identity. A ticketed live storytelling performance will feature talented local storytellers sharing their personal experiences with issues of sexuality, gender, and LGBTQ life.
American Landscape: An Exploration of Art & Humanity by Nabil Mousa
, opens Friday, Nov. 17, I the main gallery at the Arab American National Museum, 13624 Michigan Ave., Dearborn; free with Museum admission; exhibit runs through April 8, 2018; click here to learn more about the show. To learn more about Hikayat, click here.