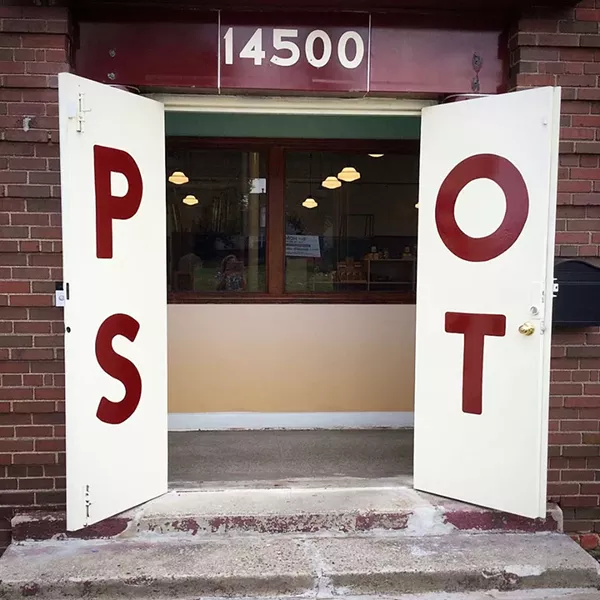 Post, a new decor and lifestyle store will open on Oct. 11 at 14500 Kercheval in the Jefferson Chalmers neighborhood, according to a press release.
The shop, co-owned by Clare Fox and Wayne Maki, is a flagship for their home design firm Mutual Adoration. The brand specializes in furniture, frames, and housewares made of reclaimed wood.
The name, Post, is in honor of 14500 Kercheval's original purpose — it was built as a U.S. Post Office in 1940. Recently though, it's been home to Mutual Adoration along with production and design studios for Leadhead Glass, Tait Design Co., and Scarlet Crane Creations.
The store will sell products designed and created by Fox and Maki as well as wares from local brands like Marcy Davy Haywood's All Things Grow, Abigail Murray ceramics, JKM Candles, and Cellar Door Soaps, among others.
Additionally, the pair will use the space as a venue for workshops and classes that they hope will help with community engagement.
"We're a bit of a destination," Maki says. "We don't want to be the shop that opens and is just for people from the suburbs to drive to."
Maki jokes that the shop is located in the "prairie lands," as its Kercheval location is outside of "Jefferson Chalmers proper."
So, they'll activate the space with workshops and classes, which will likely include screen printing and furniture construction.
To kick things off, their grand opening is a two-part pop-up dinner series that will match Sfumato Fragrances with Tessa Liebman, a New York-based chef from Method & Madness.
The scented dinners will give guests the chance to dive into a five-course meal paired with cocktails and Sfumato's signature perfumes. Tickets are $88 per person and some proceeds will go to a nonprofit called Recovery Park.
For more info on post go
here
.