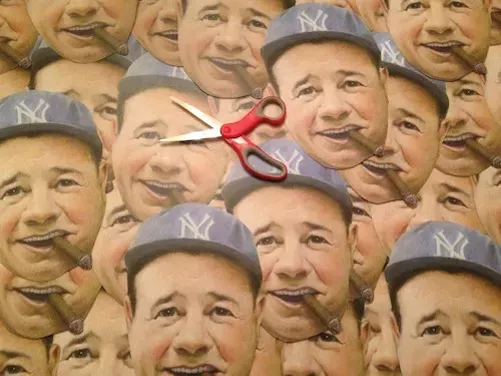 We're a little more than a week away from Detroit's biggest baseball-themed party outside of Opening Day. It's the 31st Annual Babe Ruth Party, scheduled to take over Nemo's Bar next weekend. Mark those calendars, prepare your stomach for a feast of frankfurters, and get ready to wash it all down with beer all inside the
home of one of the city's better hamburgers
. This year, the Bambino would have turned 123.
Tom Derry is the prime mover behind this local tradition. You may know him as the head of the Navin Field Grounds Crew, a group that kept the grass cut and the weeds in check at the site of old Tiger Stadium, a stone's throw from Nemo's.
In fact, you can
get the backstory on this baseball party from our own files:
Derry's annual bash was originally inspired by a novelty song on a Rockola jukebox at a dive bar in Detroit in 1987. The bar closed, but Derry kept throwing a birthday party for the Babe, which moved around over the years, and has finally settled down at Nemo's. It's still a good primer on why the Babe is worth celebrating in Corktown, and why the party is so much fun.

Saluti!

This year's Babe Ruth Party starts at 7:14 p.m. (for the Bambino's 714 homers) on Feb. 3, at Nemo's Bar, 1384 Michigan Ave., Detroit.