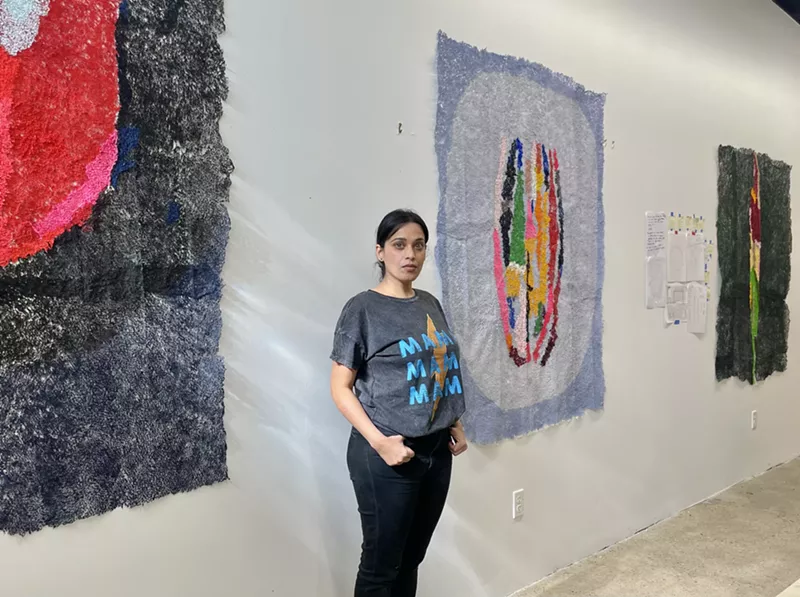 Nebular webs of fibers with a texture like corroded lace hang on the walls of David Klein Gallery. One seems to glow with a beaming yellow glob at the center. The bright energy pool feels as if it is emitting light as it draws you into life's infinite possibilities.
It takes Neha Vedpathak nearly a month to create these massive abstract pieces with a technique she developed called "plucking." She takes Japanese washi paper made from mulberry bark and plucks it apart with a pin. Then she sews the fuzzy deconstructed paper together to make a canvas that she paints with a dish towel, of all things, in place of a paintbrush.
Her latest exhibit, Creative Force at Detroit's David Klein Gallery shows off her one-of-a-kind technique with 12 new pieces that span up to 73 inches tall.
Vedpathak's creative hack, which dismantles tradition to make a new abstraction of normalcy, is both literal and metaphorical. She says she developed her plucking technique after she got bored with regular painting and wanted to push herself to the next level of artistry. One day, after a friend gifted her some washi paper, she began experimenting with pushpins that she had in her studio.
"I went to school for painting and after working in that medium professionally for four or five years, I felt like it just came too easy. I was churning out a painting a day and it was great until it wasn't challenging," she tells Metro Times. "I don't want to go to the studio and sleepwalk through it. I want to feel like I'm contributing something, I'm saying something, and I'm wrestling with ideas. The work is having a dialogue with me and together we're creating something."
Vedpathak was raised in India and moved to the United States in 2007. She has lived in Detroit for seven years and her work is in collections at the Detroit Institute of Arts, Madhya Pradesh State Art Museum in India, Anderson Ranch Arts Center in Colorado, and Camac Art Centre in France. She has exhibited across the United States, India, Singapore, and Europe including at the Flint Institute of Arts and the National Indo-American Museum in Chicago.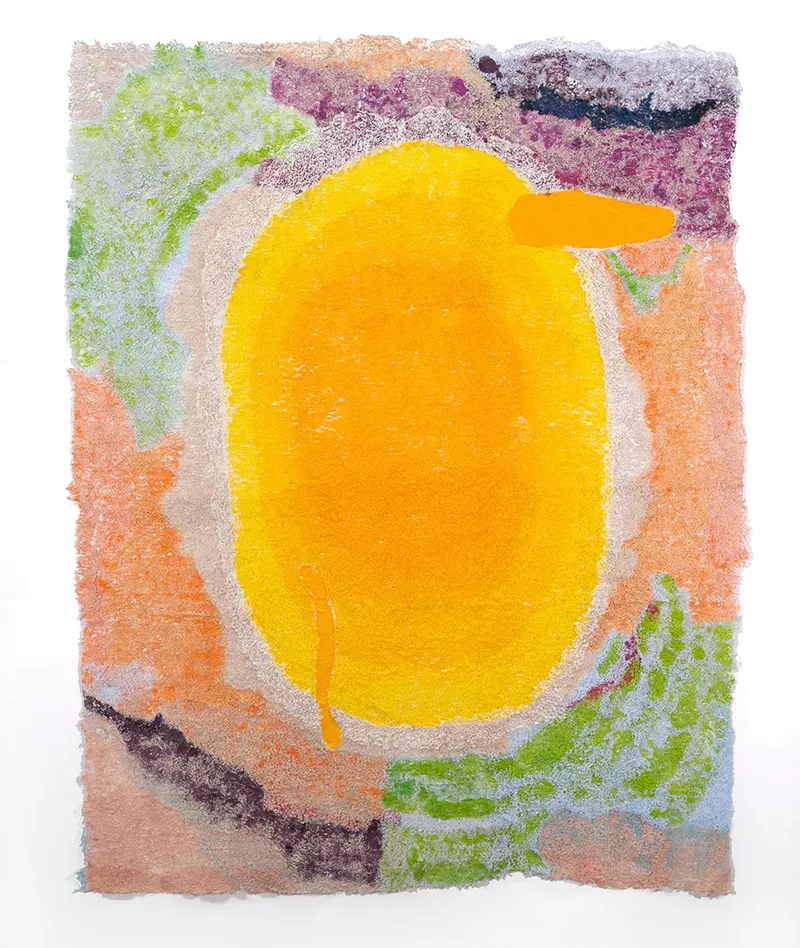 Her artistic practice intertwines her spiritual practice and upbringing in India. Her piece, "Illuminance, Radiance, Immanence," is an abstract painting of the tongue of Kali — a fierce goddess of both creation and destruction.
The mostly black piece with Kali's menacing red tongue lolling down into the frame contrasts "Infinite Possibilities," the sunny piece mentioned above. They mark the beginning and end, from dark to light, and the beauty of everything in between.
"I think the Western world has very limited archetypes for women role models," Vedpathak says. "Where I grew up in India we have Kali, and Durga, and Saraswati — all these different aspects of the female form which have different qualities from pure to divine to sacred to destructive, fearsome, and fierce."
Creative Force is a political dialogue on women's rights in the aftermath of Roe v. Wade being overturned. Many of the pieces contain shapes reminiscent of the womb as a symbol of goddess energy — the creative force, if you will.
"According to Tantra all matter is imbued with divine energy and that divine energy is described as a female," Vedpathak explains. "We all have that. It's not just about gender and bodies but, unfortunately, we are in a position where we have to defend our bodies and fight for our liberty… We all have creative energy, we just need to respect each others' mental space and autonomy for self-realization."
She adds, "Men have fought wars using female bodies for millennia without, frankly, any repercussions. So that is why Kali is needed. There's no other way to say it, we just need to blow this shit up and start again."
As a final thought to the viewer, Vedpathak's piece "A Paradox of Self" presents itself as a silent observer of change as the fabric, draped over a beam, cascades to the floor.
"We are all part of the same universal fabric," she says.
Where to see Neha Vedpathak's work: Creative Force is on display at Detroit's David Klein Gallery until May 27. 1520 Washington Blvd, Detroit; dkgallery.com.
Coming soon: Metro Times Daily newsletter. We'll send you a handful of interesting Detroit stories every morning. Subscribe now to not miss a thing.

Follow us: Google News | NewsBreak | Reddit | Instagram | Facebook | Twitter