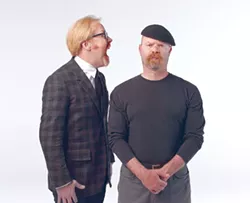 Ever wonder whether dropping a penny from the observation deck of the Empire State Building would penetrate someone's skull at street level? Is the combination of Pop Rocks and Coke lethally combustible?
While uncovering the origins of those and other urban legends skulking about is endless folly, the two men behind the Discovery Channel's MythBusters have honed a career in debunking the mystery behind those types of oft-wondered questions.
In the 11 years since making its debut, MythBusters' hosts — the irascibly lovable straight man, Jamie Hyneman (oh, that mustache), and his hyper-enthused partner, Adam Savage, have attracted a legion of fans, leading the pair to tour the country during the show's hiatus.
On Sunday, Dec. 8, the two bring their bangs, booms and bombs to the Fox Theatre, giving attendees a hands-on, interactive taste of life on the MythBusters lot.
"We're obviously not going to use high explosives on stage," Hyneman says during a post-show phone interview in Boise, Idaho. "We did consider using small quantities, but what we've done for the live show is re-create the 'heart' of the [TV] show by involving the audience and having a series of segments we go through, which are controlled experiments, and are often just as whimsical as what we do on TV."
Every Wednesday night on Discovery Channel, Savage and Hyneman test the limits of human ingenuity — and sometimes even their own bodies — in getting to the bottom of some of the best-known urban myths. Over the course of 100-plus episodes, MythBusters has declared more than 300 myths confirmed, busted or plausible. (For the record, the above myths were both busted.)
In the process, they've blown up, shot up and drowned nearly everything, from a hot water heater to a fan's parents' car. Rounding out the cast is the "build team" of Kari Byron, Tory Belleci and Grant Imahara.
Hyneman and Savage are many things — model makers, prop builders, machinists and TV personalities — but there's one thing they aren't: "scientists," at least not in the traditional sense.
"Neither of us is trained as engineers or scientists," Hyneman explains. "One of the things I'm most impressed with is simply that we got put into a situation where we're supposed to investigate things that happen and, because we are very handy and quick on our feet, we actually replicate things and test things."
And for the two non-scientists, what you see is what you get. The personal chemistry between the two is, Hyneman attests, critical to the show's success — call it MythBusters' secret sauce.
"While it irritates us to work with the other on a daily basis — we have known each other for 20 years and not once sat down for dinner — we respect each other," Hyneman says. "The end result is more than the sum of its parts."
There is a pride the showmen exhibits in their everyman approach to experimentation. Hyneman stresses that, on both TV and stage, the goal is to make science accessible. While neither host is a trained engineer — Hyneman actually graduated with a college degree in Russian history — their skills are unimpeachable, at least according to the 10 million fans watching them each week.
"The show lets people know you don't have to be some guy in a lab coat or an engineer to do science and engineering," Hyneman says. "We want to do a good job figuring these things out."
The show drives into town at 6 p.m. Sunday, Dec. 8, at the Fox Theatre. See metrotimes.com for a link to the box office and more information.