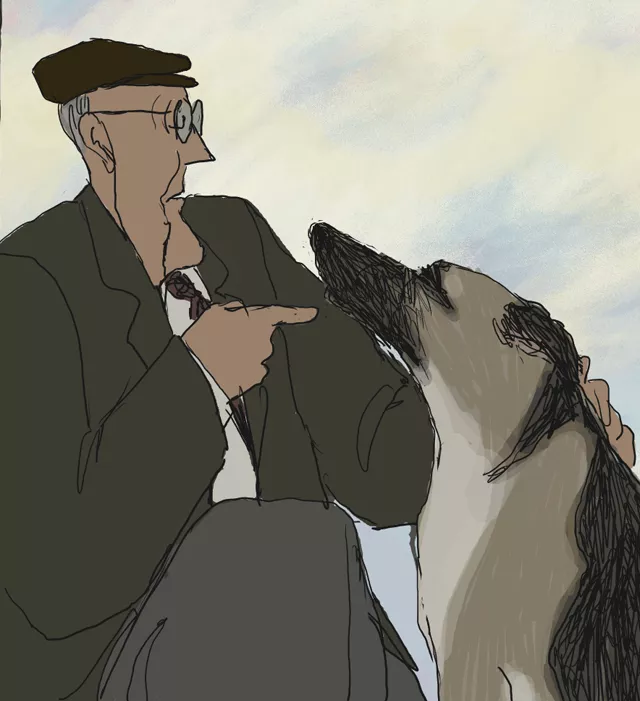 Ah, the bond between man and mutt. It's a relationship that's been poorly explored by Hollywood. Whether it's Benji, Air Bud, Lassie or Old Yeller, the artifice is too obvious, the need for melodramatics or comic antics too forced to capture the true joys and complexities of human-dog companionship. Plus there's simply no getting around the fact that real-world pooches make pretty bad actors.
Husband-wife team Paul and Sandra Fierlinger have skipped that complication by taking a graphic novel approach to their adaptation of J.R. Ackerley's 1956 novel, My Dog Tulip. A droll but contemplative account of how an Alsatian hound influences the way the author encounters the world and the people in it, this animated marvel is filled with the kind of aloof and witty observations you might expect from a contemporary of E.M. Forster or W.H. Auden.
Wonderfully narrated by Christopher Plummer, the diary-like chronicle also ventures into surprisingly candid discussion of bowel movements and mating, as Ackerely diligently jots down every thought and encounter. There's great humor, honesty and humanity in these scenes, as his affections give way to self-reflection and eventually revelation. Still, some may find Ackerely's seemingly unconscious identifications with Tulip's sexuality and his fixation on defecation a tad discomfiting. The lack of personal censorship is surprising, given the author's buttoned-up lifestyle and mindset. It's almost as if Ackerley is daring his audience to make assumptions about his inner landscape.
It's then odd, however, that though the film has myriad vignettes centered around shit, shitting and the quest to get Tulip laid, the Fierlingers never once acknowledge Ackerley's homosexuality. It's a notable (though far from tragic) dodge in their otherwise highly personal narrative.
Ultimately, what makes My Dog Tulip such a terrific success is its spare New Yorker cartoon-style animation. Though it looks hand-drawn, the film is wholly computer-generated, employing thousands upon thousands of pixel-derived illustrations to create its fluid, watercolor effects. It's wonderfully expressive stuff, simple in its execution but continually filled with visual delights and surprises. You'll be amazed at how much character and personality the filmmakers squeeze from the smudge-like pastel that is Tulip.
Equally effective are the sketchpad asides the Fierlingers employ to illustrate Ackerley's digressions. Like pencil doodles in the margins of a notebook, they deliver hilarious and fantastical tangents — the best of which is an out-of-nowhere musical number that has Plummer and an angelic chorus singing: "You smell my ass; I smell yours."
Don't be misled by the animation, My Dog Tulip is decidedly for adults. Not just a tale of pet-owner devotion, it produces the kind of blunt sincerity, touching compassion and psychological insight that's rare to find in any film.
Showing at the Detroit Film Theatre (inside the DIA, 5200 Woodward Ave., Detroit; 313-833-3237) at 7:30 p.m. on Friday, Nov. 19, at 7 p.m. on Saturday, Nov. 20, and at 2 p.m. on Sunday, Nov. 21. It also shows at 9:30 p.m. on Friday and Saturday, Nov. 26-27, and at 4 p.m. on Sunday, Nov. 28.