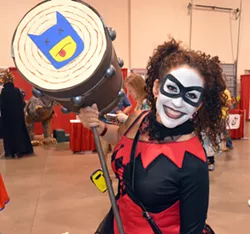 It's mildly amazing that your average introverted, crowd-fearing person manages to regularly attend this type of event. The disastrous magnitude of the descent upon Motor City Comic Con was apparent from the traffic backed up almost all the way to 696. Though the word "suburban" usually evokes images of effortless parking and commuter convenience, the Motor City Comic Con at the Suburban Collection Showplace was anything
but
those evocations for the groups seen finishing the last mile of their pilgrimage on foot along Grand River Avenue. Arduous lines were the norm once you breached the walls of the venue too.
Such densely populated events have their truly unique advantages, though. Only at a comic con can you get cut off in pedestrian traffic by a wave of Lou Ferrigno's hulk-weary left arm.
It sure is nifty seeing the Hulk in person, though the tradition of celebrity adoration always seems slightly off-putting. Doesn't it run contrary to impressions of the subculture enthusiasts themselves? Steeped in memes and referential humor and perhaps a bit too invested in the mildly parasitic — if entertaining — act of popular culture mockery? But, certainly not a people to be so easily hypnotized by any old Enterprise captain who wanders into town.
The flip side to all that celebrity folly is the chance to interact meaningfully with independent and up-and-coming artists and comic creators from places like Ypsilanti and Hazel Park, locals reveling in the opportunity to make their work visible to a sea of could-be fans. Though one day you'll probably have to pay $5 to shake their hands too, it's always a trip meeting a fellow fan gone pro, a person in that elusive stage bridging consumer and creator.
This year's MCCC also proved that we are quickly approaching the age of the infinite crossover, a time when all realities and franchises will collide and become one continuous property. Does a Super Mario/Hunter S. Thompson concept design deserve to be reposted on twitter? Well maybe, but it definitely doesn't warrant an entire genre of T-shirts.
Excluding uninspired wearers of branded merchandise such as us ourselves, many of MCCC goers' costumes were in particularly good form this year. There were lots of the requisite (but still lovingly re-imagined) Doctor Whos, Harley Quinns, and Pokemon trainers, but also artists with ambitious wearable foam-work and people who we can only assume, based on the meticulousness of their backpacks, were functional Ghostbusters.
Seeing all those pitch-perfect proton packs reminded us of what the appeal of comic-con really boils down to: Uncomfortable crowds and long hikes back to your parking spot be damned — this a chance to drift through a sea of strange enthusiasts in an attempt to eventually bump into the odd enthusiast that shares exactly your strange enthusiasm.