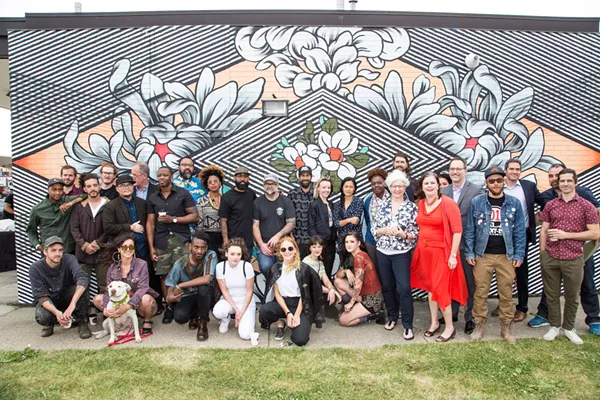 Now in its third year, Detroit's annual
Murals in the Market
festival is set to expand beyond its original Eastern Market footprint.
Festival organizer Jesse Cory tells
Metro Times
that this year, Murals in the Market — which has seen local, national, and international artists transform Detroit's Eastern Market district with murals and other art installations — will kick off on Wednesday, Sept. 6 with new works planned in farmers markets throughout the city.
See photos from last year's Murals in the Market here.
"The whole idea of painting the community markets was to go from 'Murals in the Market' to 'Murals in the Markets,'" says Jesse Cory, who is also co-founder of Eastern Market print shop 1xRun. "It was like, how do we expand what we've done in Eastern Market?"
The farmers markets murals include works by Zak Meers at the Drew Transition Center Farm Stand (9600 Wyoming Ave.), Julian Spradlin at Meldrum Fresh Market (1264 Meldrum St.), Ellen Rutt at Sowing Seeds Growing Futures (18900 Joy Rd.), Paul Johnson at Northwest Detroit Farmers Market (18445 Scarsdale St.), and Tylonn Sawyer at Peaches & Greens Market and Truck (8838 3rd St.).
"We're super excited to work on the community markets. That was something that Dan Carmody from Eastern Market was really interested in," Cory says. "He wanted to get people talking about these other markets. So what better way to do it than through this context?"
The main festival kicks off on Friday, Sept. 22 with live painting in Eastern Market. This year, some 50 artists will participate, including FEL3000ft from Detroit, Bask from St. Petersburg, Woes from Los Angeles, and Michael Vasquez from Miami — among many others.
On Saturday, Sept. 23, an
official afterparty
will include live music by Egyptian Lover, Waajeed, Will Sessions & Amp Fiddler at the former Stroh's Warehouse in Detroit's Eastern Market. The 1xRun warehouse at 1550 Winder St. will feature an installation by Haute To Death and a solo exhibition from Oakland, Calif.-based Eddie Colla. In addition, the festival will also host guided walking tours of the artwork, artist talks, and more.
Painting will continue through Thursday, Sept. 28. Murals in the Market dovetails with a month of other design-related festivities in September, including the
Detroit Design Festival
and the
Dlectricity
festival of lights. In 2015, Detroit was designated as a "city of design" by the United Nations Educational, Scientific and Cultural Organization — the first American city to get such a distinction.
The full Murals in the Market schedule can be found at
muralsinthemarket.com
.