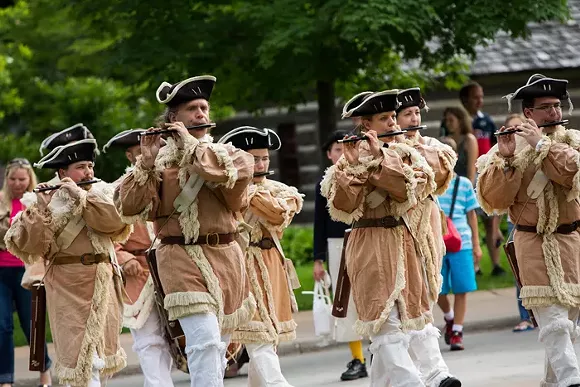 What better way to celebrate the publishing of the Declaration of Independence than with fireworks, picnic food, and a little bit of rock 'n' roll? For all this and more, metro Detroit has got you covered.
Royal Oak Rib Fest
Royal Oak puts on a stacked lineup of local musicians to entertain this weekend at
MT
's new Rib Fest event, with classic favorites like Thornetta Davis and Goober & the Peas as well as younger acts like Stereo Jane and The Infatuations. Additionally, adult and kids can both enjoy activities like karaoke, bounce houses, and monster truck rides. The Fest takes place from July 3-5 at the Royal Oak Farmer's Market, 316 E 11 Mile Road, Royal Oak. Admission and parking are both free. More info
here
.
Greenfield Village's Salute to America
Sometimes you have to put yourself in the buckled shoes of the people who attended the first Fourth of July. Salute to America provides just that, with a drum and fife parade, picnics, live music, and a spectacular fireworks display, along with some patriotic tunes from the Detroit Symphony Orchestra. The event runs from 6 p.m. to 10 p.m. July 1-4 at 20900 Oakwood, Dearborn. Pricing varies. More info
here
.
Fourth of July Weekend Explosion at Chene Park
The Fourth of July pyrotechnics don't have to be the only fireworks you see this weekend, as 2 Chainz and Future (or Future and 2 Chainz — that's an argument for another day) blow up the stage and headline a night at Chene Park on Friday, July 3. Future's been making waves for a few years now as one of the best in a growing wave of weirdos doing awesome things with hip-hop, and 2 Chainz is that guy you heard at that party last week. Show starts at 8 p.m at 2600 Atwater St., Detroit. Tickets range from $46 to $126. More info
here
.
Whitesnake at Freedom Hill
Kick off your weekend by rocking out at Whitesnake's Purple Tour, coming to Sterling Heights on Friday, July 3. The show opens with SoCal's favorite classic rockers, the Answer, at 6:30 p.m.. Tickets range from $19 to $175, so whether you want to keep it cheap with lawn seats or splurge and get a little closer, you can ring in the Fourth with some good old fashioned rock 'n' roll? Freedom Hill is located at 14900 Metropolitan Pkwy, Sterling Heights. More info
here
.
Fourth of July Festival
Clawson's Fourth of July Festival has been drawing people from all over metro Detroit since 1993. Its parade is one of the largest in the state. The festivities kick off with a pancake breakfast, and continue with the parade, contests, food, bands, games, rides, the famous Firecracker Mile run, and of course, fireworks. Events kick off on Main Street and West 14 Mile Road, Clawson and run from 7am to 10pm for $2 admission. More info
here
.
Tigers vs. Blue Jays at Comerica Park
On the Top 10 List of most American things to love, baseball is somewhere in between apple pie and driving a Hummer. Watch the Detroit Tigers play the Toronto Blue Jays on July 4 at 1:08 pm at Comerica Park, located at 2100 Woodward Ave, Detroit. The first 10,000 fans 21 years or older get a free patriotic Tigers baseball cap. Use the code "summer" when buying tickets online to get upper box tix for $27. More info
here
.
Concert of Colors
In celebrating America, it's important to appreciate the multitude of cultures that make up our country;s cultural fabric, which is why the annual Concert of Colors is the perfect event. While the official festival runs July 9-12, the Midtown festival is getting an early start on Saturday. Hosted by Ismael Ahmed of WDET's This Island Earth, there will be a Tune Up concert featuring Spam Allstars, a Latin Funk act you can't miss. Doors open at 7 p.m. and the band performs from 9 p.m. to 11 p.m.. It all goes down at New Center Park, 2990 W Grand Blvd, Detroit, and admission is free. More info
here
.
Sweet Willie Tea and the One Man band at Bert's Marketplace
If you want to jam to some good ol' Roots and Americana music this Independence Day, check out Sweet Willie Tea and the One Man Band at Bert's Marketplace in Eastern Market. Willie is a Michigan-based solo act who plays a wide array of instruments in true one-man-band fashion. He will be performing during market hours on Saturday between 10:30 am and 5 p.m. While you're there, you can also treat yourself to some hot barbecue, fresh squeezed lemonade, and beer. More info
here
.
Laika Dog Grand Opening at the UFO Factory
The only thing more patriotic than eating hot dogs on the Fourth of July? Opening a hot dog restaurant on the Fourth of July. Laika Dog (named after the first dog in space, and yes, a Russian) will hold its grand opening on Saturday between 12 p.m. and 12:30 a.m. the next day. Located in Corktown and operating out of the UFO Factory at 2110 Trumbull Ave, Detroit, Laika Dog will be bringing its own flair to the classic American wiener. Dishes range from PB&J dogs to fried ramen to vegan options. The kitchen closes at 10 p.m. but live music from the Mahonies, the Impaler, and DJ John Krautner will carry on well into the night. More info
here
.
Brian Wilson and Rodriguez at Fox Theatre
Taking advantage of the new biopic
Love & Mercy
, Brian Wilson has taken to the road (alongside fellow founding Beach Boy Al Jardine) to play a host of his old classics. Supporting this tour is enigmatic singer-songwriter Rodriguez, subject of an Oscar-winning documentary and one of the most interesting musicians to ever come out of Detroit. Show starts at 8 p.m. at 2211 Woodward Ave, Detroit. Tickets range from $39.50 to $100. More info
here
.
Windsor Fork and Cork Festival
Grab your passports, cause we're going international. Why not spend your Fourth of July weekend in a country that isn't America? Hosted at the Riverfront Festival Plaza, The Windsor Fork and Cork Festival features food, drink, and music headliners like Everlast, Big Wreck, and U.S.S. A weekend pass is $30. More info
here
.