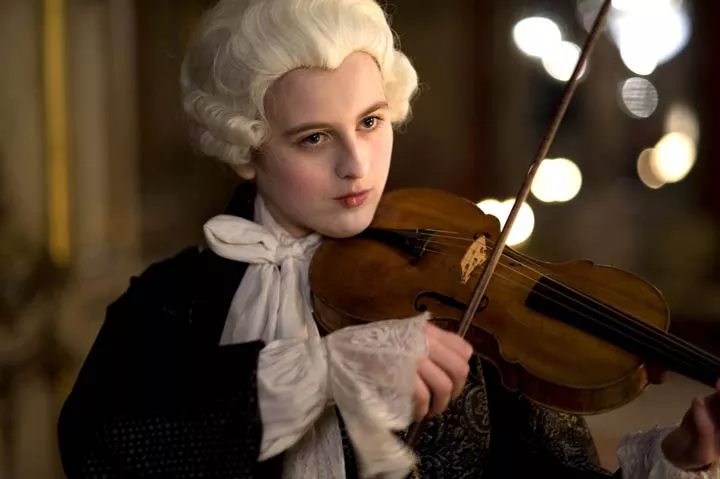 It's hard to tell whether writer, director and producer René Féret's modestly budgeted but lushly appointed fictional biopic is a family affair born out of common passion or overreaching vanity. Casting himself and his teenage daughters (one as its lead), and making his wife the editor, Mozart's Sister suffers from stilted performances and storytelling as it recounts the possible life of Mozart's elder sibling, a musical prodigy in her own right.
Fifteen year-old Maria Anna "Nannerl" Mozart (Marie Féret) is carted around with her younger brother Wolfgang by their ambitious father Léopold (Marc Barbé) in order to perform before the royal courts of Europe. A talented violinist, harpsichordist and vocalist, Nannerl was denied the opportunity to compose or play her fiddle because she was a woman. Nevertheless, Féret imagines for the gifted young girl close friendships with the daughter (Lisa Féret) and the dauphin (Clovis Fouin) of Louis XV. The French prince encourages Nannerl to compose chamber music for him, giving her a brief taste of musical independence. Unfortunately, life offers her a far less satisfying fate. Outliving her famous brother by nearly 40 years, none of her music survives today. And, as depicted in Féret's film, she dies a poor and unfulfilled woman in a loveless marriage.
Buried beneath the glacially slow pacing and inexpressive acting, there's a potentially interesting examination of female talent suppressed by a heartless patriarchy. Too bad Féret's approach is deprived of drama or emotion. He structures Mozart's Sister as a courtly coming of age story, and though his statements about gender politics are hard to miss, they never feel properly integrated into Nannerl's muted narrative.
Intimate, polite and historically intriguing, Mozart's Sister is a gorgeously lensed 18th century costume drama where the French settings (it was shot inside Versailles) express far more than the actors, and the clever soundtrack (composed by Marie-Jeanne Séréro) suggests a passion for music that the film never explores ... or even displays. While its true that an actress need not chew the scenery to convey the profound injustice Nannerl suffers, a couple of furrowed brows and meek protests hardly qualify as a convincing substitute.
Showing at the Detroit Film Theatre (inside the DIA, 5200 Woodward Ave., Detroit; 313-833-3237), at 7 p.m. Friday and Saturday, Sept. 30-Oct. 1, and at 2 p.m. on Sunday, Oct. 2. It also screens at 9:45 p.m. on Friday and Saturday, Oct. 7-8, and at 4:45 p.m. on Sunday, Oct. 9.