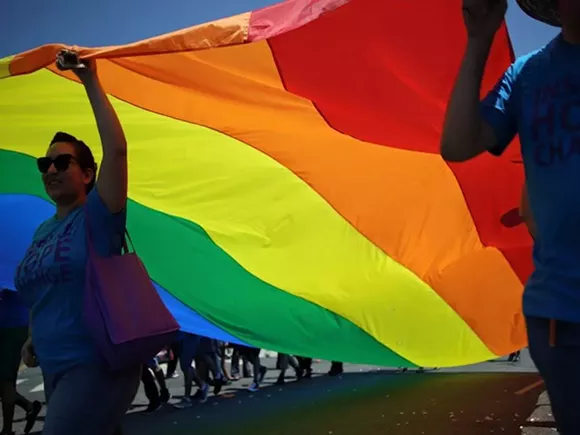 Motor City Pride, Michigan's largest LGBTQ gathering, will be hitting Hart Plaza in downtown Detroit this weekend, expected to draw more than 35,000 participants.
[View: 46 sizzling photos from Motor City Pride 2015]

The annual festival, which celebrates over 43 years of camaraderie and acceptance this year, will feature live music, food, and a family fun area. More than 50 companies and organizations have signed up to march from Fort Street to Hart Plaza during the Saturday parade. Additionally, there will be five stages of entertainment and more than 100 sponsor, nonprofit, and sales booths.

This time around, Pride is seeking to illuminate the diverse generations of the LGBTQ community's past. Its activities will strive to honor the pioneers of the Gay Right movement after the Stonewall riots, in addition to those who initiated medical treatments during the early AIDS crisis and fought for workplace and housing equality.

Entertainment acts like Carmen Electra, Betty Who, Tunde Olaniran, the Killer Flamingos, and many more are sure to have crowds from all over the Midwest flocking to the Motor City. Partner events, like the King and Queens Concert at Chene Park and the MotorBall at St. Andrews Hall, are offered starting at at 8 p.m. on Saturday, June 6.

Motor City Pride takes place from noon to 8 p.m.Saturday, June 6 and noon to 7 p.m. Sunday, June 7 at Hart Plaza in Detroit. Admission is $5 per day, free for youth 12 and under. For more information visit: motorcitypride.org.