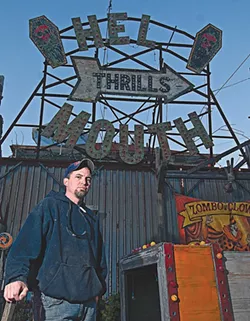 Only Detroit could birth the newly threatened Theatre Bizarre, a sprawling complex of gonzo art and urban renewal just south of the now-abandoned State Fair Grounds. Equal parts twisted circus sideshow, haunted carnival, outsider art installation and utterly unique performance space, Theatre Bizarre started 10 years ago when painter-architect John Dunivant's Halloween party had grown too big for his Russell Industrial Center loft space. Dunivant decided to join his party with carpenter Ken Poirier's backyard Halloween party on the latter's west state property.
In 10 years, give or take, the property has grown to not only host Detroit's best, most insanely artful Halloween party, but also the city's most imaginative theater troupe. Under the guidance of Casey Miller, Theatre Bizarre productions run the gamut from "The World's Only Rock 'n' Wrestling Circus" (Squared Circle Review) to pulp fiction (Teasetown Correctional Facility for Women) to the fantastic (Wonderland).
John Dunivant is the unifying visual mastermind behind all these seemingly disparate undertakings, and when asked about the genesis of his inspiration, the soft-spoken Dunivant "blames" his dad.
"A lot of it's my dad's fault. It comes from all those summers of road trips and going to roadside attractions, bad tourist traps, wax museums and natural history museums." Adds the CCS-schooled artist, "My tastes run from American impressionism to P.T. Barnum."
But in a city largely built on innovation (Henry Ford), it's shameful how Detroit often treats new crops of innovators. Whether it's sending the drug squad to parties hosted by world-renowned Detroit DJs, sending bulldozers to Tyree Guyton's Heidelberg Project or now threatening to tear down parts of Theatre Bizarre — and nearly killing off its Halloween party last week (it moved to the Fillmore) — because of alleged zoning issues. Why can't the city work with instead of against our artists to address issues?
Artists and artisans who are trying to rebuild our city by transforming the abandonment and decay into something inspiring and beautiful (such as Theatre Bizarre) need to be embraced and encouraged, not threatened.
For more info, see theatrebizarre.com.
Get the flash player here: http://www.adobe.com/flashplayer