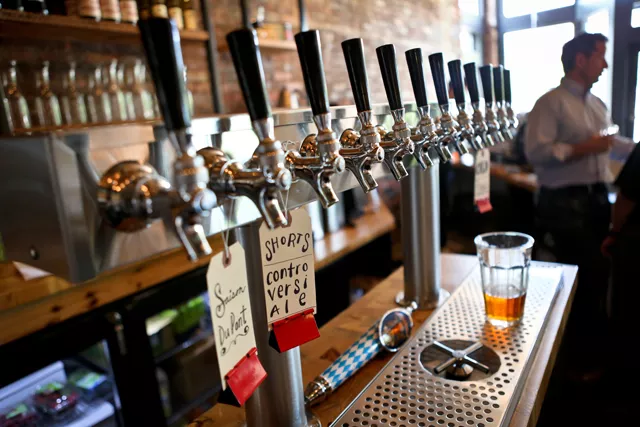 Great Lakes Coffee Roasting Company
3965 Woodward Ave., Detroit
313-831-9627 • greatlakescoffee.com
Open 7 a.m.-11 p.m. Monday-Thursday, 7 a.m.-midnight Friday-Saturday, 
closed Sundays.
Open for about three months, Detroit's Great Lakes Coffee Roasting Company isn't your usual coffee shop. In addition to roasting and selling fair-trade, organic and direct-trade coffee, the joint has a full liquor license.
As general manager David Shock puts it, "It wasn't something the owners were going after, but it became available to them. It's a way of enhancing what we offer here. We do high-end coffee microlots, and so we do the same thing with a lot of our beers and wines."
When framed that way, it makes good sense. Similar to the effort Great Lakes makes in curating its selection of boutique coffees, it also carefully chooses local craft beers and natural or biodynamic wines that use sustainable growing techniques and contain little or no sulfites. 
"We consider flavor profiles with our coffee," Shock says, "and treat our coffee like a small wine producer treats wine or a small beer brewer treats beer. So it's a natural extension."
And the project seems to be a success. Shock says, "It's going over really well. It's steady all day long. Our dining room is more like a coffee shop, and our counter is like a bar. In the evening, the lights go down, the music goes up, and we serve a small tapas menu along with a limited list of 10 cocktails. You won't find a lot of well drinks, as our liquor selection mostly revolves around our cocktail list."
The choice of drinks may be short, but it's up-to-the-minute on the pre-prohibition tip, with a few inventive twists. One drink, called the Newfangled, is Great Lakes' take on Old Fashioned, with Bullet rye, simple syrup and ice flavored with Angostura Bitters. Another potation, called William Tell Trades Up, features hot cider with Bullet bourbon, with a five-spice simple syrup. Served warm, Shock says, "It's great for fall."
And Great Lakes has long experimented with mixing coffee and beer. They'll combine cold-brew coffee with Founders Breakfast Stout, complementing the Michigan brew, which is packed with the flavors of a well-balanced breakfast, including flaked oats, bitter and sweetened imported chocolates, and Sumatra and Kona coffee.
Given its split personality, the joint draws a good mix of customers throughout the day. Shock says, "We get a lot of repeat customers during a given day. A lot of people come in for coffee and return later at night for drinks. We might see the same face two or three times a day."
All in all, it's an inventive, bistro-like twist on serving alcohol as a side attraction, something that requires a fine sense of balance to manage properly. And it sounds like Great Lakes is up to the task.
"First and foremost," Shock says, "we're a coffee company, so that's our coffee demographic, but we're slowly building the alcohol side, because we want it to work in conjunction with the coffee."
He adds with a laugh, "We don't want to turn this into some kind of rockin' sports bar."