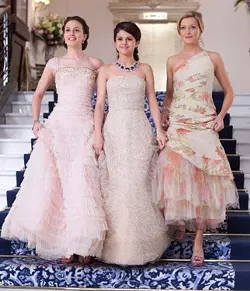 Selena Gomez is the latest fabricated singer-actress-media conglomerate to be released from the Mouseketeer factory, and, appropriately, with her oversized eyes and disproportionate head, she looks rather like a living, breathing Bratz doll. Farm-raised like veal on a steady diet of Disney Channel sitcom treacle, she's only a vaguely passable little actress, but looks like Bettie Davis when stacked up next to stablemate Miley Cyrus. As a rite of passage for this sort of starlet's career, she's been assigned the kind of princess fantasy travelogue that once would have starred Haley Mills.
As a graduation present, Texas teen Grace (Gomez) gets a few weeks off from slinging pancakes at a greasy spoon, and gets to haul her blond BFF Emma (Katie Cassidy) and brainy stepsister Meg (Leighton Meester) on a breezy Parisian getaway. Sounds fun, but OMG! The hotel is a fleabag, the streets are confusing, and their cut-rate bus tour moves at breakneck pace (Don't blink, on your left is Notre Dame!). Bummer. When the tour group accidentally leaves them behind at the Eiffel Tower, the girls stumble into the lobby of a much more posh hotel, where a snotty, tabloid-bait British heiress Cordeilia (also Gomez) has just abandoned her suite on a whim, and who just happens to be a dead ringer for Grace. Sure, happens every day.
Status-loving Emma goads the group into playing along, and riding the mistaken identity train until the expense account spigot shuts off. Soon enough, these down-home gals are being rushed into a private jet, another swank hotel, and all around Monaco by a trio of hunky foreigners. Against her better judgment, clear-headed Grace gets swept up in the magic of it all, and because by posing as the socialite she gets to help Romanian orphans, something that her super-rad idol Gandhi would think was a cool move.
Romance and antics ensue, at a thoroughly tepid pace, directed with benign indifference by Thomas Bezucha, whose main achievement seems to be taking the lens cap off before takes. You have to work hard to make glorious locales like these look drab, but here the City of Lights is shot so clinically it looks a bit like the Paris section of Epcot. Shady media types often tell us that Middle Americans despise Europe; yet Hollywood keeps selling us a sanitized, amusement park version of the real place. If this kind of ditzy escapism inspires a tween girl to expand her horizons, then so be it, but the real deal is not on display here; alas no one in this tragically bland Mouse Trap so much as nibbles a piece of mimolette.