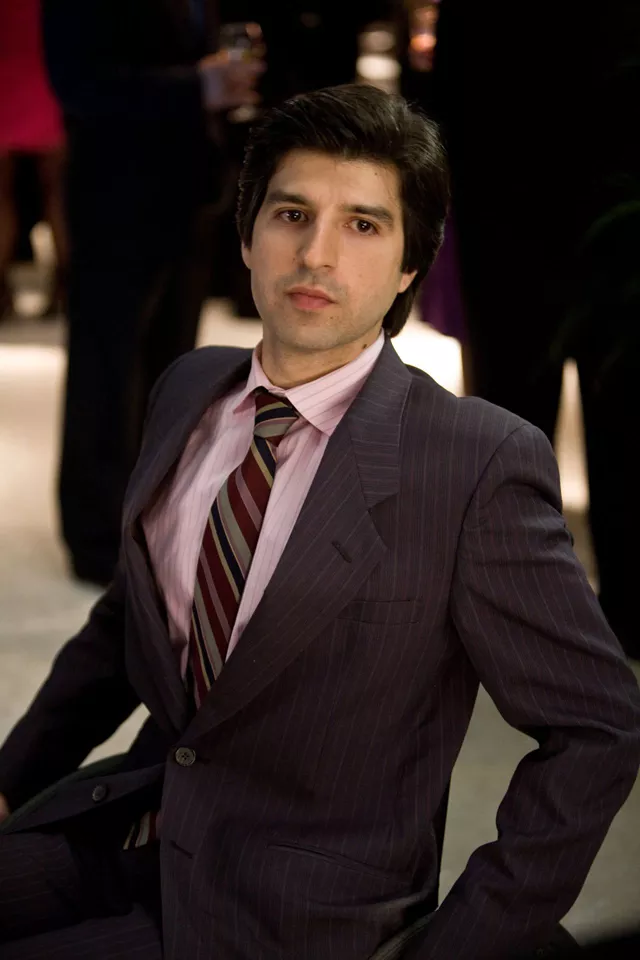 So, here's what made this interview awkward. I really like Topher Grace as an actor. I love Demetri Martin as a comedian. In fact, with only one notable exception, I liked the entire cast of Take Me Home Tonight, a well-acted retro rom-com set in the late '80s.
But I wasn't crazy about the movie. It's got some good moments, and Martin, in his brief appearances, delivers the biggest laughs. The script wasn't clever enough of a homage, and co-star Dan Fogler (the aforementioned exception) is pretty insufferable. So, how do you talk to the star of a movie, his pet project to boot, and not let on that you're not the biggest fan of said movie?
Metro Times: These junkets must be a grind. It's part of the gig, but what's the enjoyment-to-dread ratio?
Demetri Martin: It's all about sleep deprivation. I got to sleep a little later this morning, but Topher started way early.
Topher Grace: Plus we had the screening last night till like 1:30 am. But we looked at each other this morning and said, "This is fun." Showing the movie to college kids last night and hearing their reaction, which is vocal, was cool. The good news is that if the movie sucked, 1) they wouldn't pay for us to come out and screen it, and 2) they wouldn't show it to anybody. It'd be like when the studios tell critics ... "Hey, why don't you write that review on Monday."
MT: So, Topher, you're like 32 and Demetri's 37, yet you play guys who are just out of college. It's like the movie has a Welcome Back Kotter approach to reality ...
Grace: It's very similar to the movies of the '80s. You know, Judd Nelson, Eric Stoltz, they weren't teenagers. Although Molly Ringwald actually was the right age.
MT: And Anthony Michael Hall ...
Martin: Topher and I were talking about him yesterday and he was like a prodigy in those John Hughes films.
Grace: If you look back, Hall is just amazing. I mean, Cusack is great in Say Anything but he was older then. In Sixteen Candles Hall is doing stuff a lot of adult comedians can't do. The truth is, all you have to really do is look younger. I mean, Demetri looks like he's 12.
MT: Speaking of Say Anything, that's kind of the gold standard for movies like this, isn't it?
Grace: Yeah, we definitely saw it that way. And we tried to put some of that in Take Me Home Tonight. We weren't out to spoof the '80s. We wanted it to make a movie as if we were back in the '80s, like we'd gone back in time. It's more genre traveling than time traveling.
MT: Should more movies be named after Eddie Money songs?
Grace: Obviously.
Martin: I think they did a good job with the soundtrack. As they go through the movie they move away from the obvious '80s song choices. Which is kind of cool.
Grace: We really didn't want a soundtrack with "Rock Me Amadeus." We didn't want to show how stupid tastes in the '80s were. The same way we didn't want to do the spoof thing. We wanted the music to be kick-ass. Before we hired writers we made a mix and started trimming off the dopey, one-hit wonders. I mean, "Bette Davis Eyes" is actually a great song. And we got to put in "Jet Fighter" and "Ship of Fools," which are tunes we really, really liked.
MT: Demetri, you've always seemed to be a hands-on kind of guy — writing your jokes, composing your own music, using art you've created in your show. How does that square with being in a movie, where you're a cog in a big, crazy machine?
Grace: Before he answers this ... Demetri wrote like three-quarters of his lines on the set. He's like the best hire in the business because he can just improv really funny stuff. If I'd known him better when we started I would've made the role a lot bigger. Then he could've written more of the script for us.
Martin: I almost outsmarted myself with my TV show. At first, I wanted to do little music bits. And then the interstitial stuff. And do some art. And write as much as I can ... and it was like 80-something hours a week. It's like walking into a candy store and they say you can eat anything you want but you have just 10 minutes. And then it's like ugh, what did I just do?
MT: Being in a film must have been a breeze. I mean, you got to work with Ang Lee (in 2009's Taking Woodstock).
Martin: With Ang is couldn't have been more different. Not only did I have no control over anything, I couldn't change anything. Not even a word. The script supervisor would come after I did a take and say, "It's 'and', you have to say 'and.'" Everybody was totally polite about it but it was very clear that, "Dude, we don't want your take on stuff. Just do the word." In some scenes Ang was like "OK, do it again, but I don't want you to lift your head until this word." Or "When you get to the edge of the table, then look at her." The blocking was very precise.
MT: How was that process for you compared to this one?
Martin: I like both. This one I liked more while I was doing it, for sure. But that one I'm grateful to have had. It's like learning from a different kind of school.
MT: So, who's one person you're dying to work with?
Grace: Bill Murray for me for sure. Groundhog Day is in my top five movies. It's a perfect film.
Martin: Man, I love Bill Murray. But I'd really like to work with Wes Anderson.
MT: Well, if you were cast in one of Anderson's films you'd probably get to work with Murray.
Martin: Yeah. Good thing I didn't say Bill Murray and the Wachowski Brothers.
MT: Topher, I read that Chloë Sevigny used to be your babysitter. I think I'd be a little freaked out if I saw my former babysitter in Brown Bunny [in which she gives an on-screen blow job to Vincent Gallo].
Grace: [laughs] Yeah, that's when my mom stopped paying for her to be my babysitter. Actually, we were in a play together as kids, The Wizard of Oz. I was the Tin Man and she was the Scarecrow. It's weird bumping into her now because we don't really remember much of knowing each other then. You know, she was nominated for an Academy Award before I started acting and I remember thinking that it's amazing that someone from our town could get there. Blows your mind.
Martin: Topher and I are similar in that he had no acting experience and went on to be in an insanely popular TV show, and in a weird similar way I have no acting experience and got to star in an Ang Lee movie. It's trial by fire but you figure it out as you go along.
Take Me Home Tonight is playing at theaters everywhere.