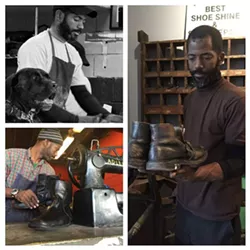 Many metro Detroiters know Moe Draper, though maybe not by name. He's quasi-famous for operating a little shoe repair business out of a stall in Eastern Market. His customers are faithful. And if it's any testament to just how beloved this local cobbler is, he's got a five-star rating on Yelp.
But Draper,
who recently said that God spoke to him and told him to hold a shoe drive for the homeless
, won't be working in Eastern Market anymore. He's moved his business from Detroit to Ferndale and he's now calling Rust Belt Market home.
The moved was announced on Saturday via the Rust Belt Market's Facebook page, which was also Draper's first day operating Moe's Market Shoe Repair out of the market.
Draper will be repairing leather goods and shining shoes inside the Ferndale shopping center Friday-Sunday. The market, located on the corner of Nine Mile and Woodward, is open from 2 p.m to 7 p.m. on Friday, 11 a.m.-7 p.m. on Saturday and 11 a.m. to 6 p.m. on Sunday.